MPs has almost doubled his salary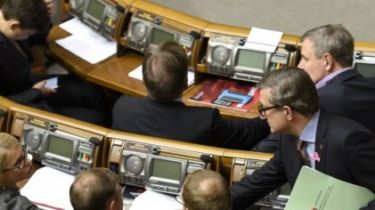 MPs has almost doubled his salary
© UNIAN
Parliamentarians will get from 36 to 40 thousand hryvnia per month.
Members of Parliament nearly doubled his salary: the relevant provision is contained in the draft State budget for 2017, which the Parliament adopted in the first reading.
About it writes "Economic truth".
The document establishes the base salary of the head of the Verkhovna Rada Andrew Parubiy in the amount of 30 minimum wages. Given that the minimum wage in Ukraine is UAH 1450, then his salary will amount to 43.5 thousand.
Read also: the Cabinet has prepared amendments to the salaries of police officers in the next year
Deputy Chairman of the Verkhovna Rada Iryna Gerashchenko and Oksana Rawfoodist will have up to 28 salary (up to 40.6 thousand hryvnia).
The wages of "ordinary" people's Deputy will be 25 times the minimum wage (36,250 thousand hryvnia).
For payment of assistants-consultants of people's deputies establishes a common monthly Fund in the range of 16 times the minimum wage – to $ 23.2 thousand.
Read also: Parliament begins consideration of the budget in 2017. Government forecasts call too optimistic
The publication notes that wages Parubiy for September amounted to 20.2 thousand hryvnia, Gerashchenko – 19,7 thousand UAH, and raw foodists to 18.6 thousand.
In August paruby got 17.4 thousand hryvnia, Gerashchenko – 6,3 thousand UAH, Rawfoodist – 14,1 thousand hryvnia.
About the nuances of the draft state budget for 2017 read on Tsna on this link.

Comments
comments