"Norman four" agreed to establish a road map of the Minsk agreements – Poroshenko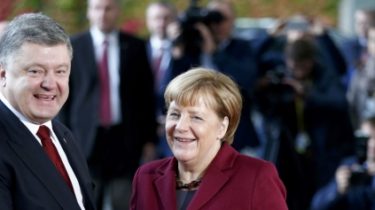 "Norman four" agreed to establish a road map of the Minsk agreements – Poroshenko
© Reuters
The President of Ukraine told about the results of the meeting in Berlin.
The leaders of the "Normandy four" agreed to establish a road map for the execution of all items of the Minsk agreements.
This was at the end of the meeting in Berlin said the President of Ukraine Petro Poroshenko.
According to him, the foreign Ministers of Ukraine, Russia, France and Germany must approve the basis of the draft of this document until the end of November. At a meeting in Berlin былb caused the main areas that the roadmap should contain.
See photos: Smiling Putin and Merkel tense. In Berlin there is a meeting of "Norman Quartet"
"We need to develop and adopt a working road map. The Ukrainian position was initially supported by our German and French colleagues, and today the German and French proposals for the road map were approved by the Norman format", – said Poroshenko.
According to the President of Ukraine, the lion's share of negotiations – almost four hours – held a discussion of security issues.
"Clearly, it was noted that all the components of the security questions are part of a roadmap and implementation plan. This refers to the withdrawal of foreign troops, and unimpeded access of the OSCE SMM to the entire occupied territory. Also agreed that nobody will hinder OSCE activities and in training for the upcoming local elections, when safe conditions will give us the opportunity to conduct these elections," – said Poroshenko.
The Ukrainian head of state noted that now an attempt will be made to enter the armed police, the OSCE mission in Donbass, which will provide security during local elections and during the transition period. Poroshenko assures that the Russian side also supported the idea of police mission of the OSCE.
"Was separately discussed the issues of preparation of elections, and agreed to continue at the level of working groups developing the concept of future elections and the implementation of "formula Steinmeier". Ukraine's position is that all foreign forces should be withdrawn from the occupied territories before the elections", – said Poroshenko.
The President added that "Norman Quartet" noted the need for a comprehensive and immediate ceasefire.
Read also: Poroshenko and Putin shook hands in Berlin – journalist
"We agreed that after withdrawal of troops of the previous three sections, there should be established permanent monitoring posts, the OSCE, and then negotiations will begin on the following four areas for breeding forces. The Ukrainian side insisted that among these four items is required to present Debaltsevo", – said Poroshenko.
According to the President, during a meeting in Berlin it was also noted that no alternative to the "channel format" is not.
Negotiations of the participants "channel four" did not go according to script
TSN. Pdsmi day
19 Oct, 23:51
Add to favourites
First reported that the talks ended. However, it later turned out that the negotiations had not ended, and it was only a pause and again they continued.
Comments
comments