Pass to Russia – they are worse than the Nazis. A resident spoke about Water daily attacks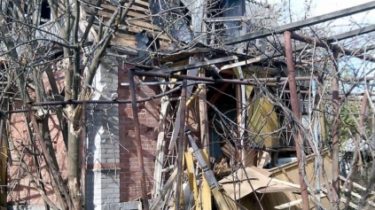 Pass to Russia – they are worse than the Nazis. A resident spoke about Water daily attacks
© Facebook/the press-center of staff ATO
The man showed a two-meter crater that remained after the shelling of the Russian "fascists".
Resident Water under Mariupol told how Russian mercenaries shelled every day innocent people, destroying their homes and leaving a two-meter craters from shells in the village.
The corresponding video published on the page in Facebook the journalist Sergey Vaganov.
"This Is Uncle Bob. Uncle Bob lives in the village of Vodiane, near Mariupol. Listen to it," he wrote.
In the video the man said that the militants shelled the village day and night.
"Pass in Russia – they are worse than the Nazis. Honestly. They are our brothers but behave like fascists. We get beaten to such an extent, and we, the people? Look, the funnel which is on a meter deep and two meters wide, glass flying, everything is flying. Plum demolished house beat – all. Fascists! What they need from us?" – complains of Basil.
At the same time question why he did not leave the village, the man answered that the reason is that he is Ukrainian.
"First, I have nowhere (to go – approx.ed), and secondly – I am Ukrainian. When I'm killed, they'll know what killed Ukrainian… But God said I'd give a day and give food, and give the Nazis the 10 seconds. And we don't know, it's flying, squeals, buzzes, and you don't know where, and it is 5 metres beating. Terrible," said resident Water.
According to him, the shelling of the village continues for 26 hours a day.
"For an hour before they begin to shoot, and an hour later finishes", the man explained and complained that the residents are not able to get into the city.
Separately, the man thanked him for the help to the Ukrainian military, who protect the village.
"And thank you Marines – exclusive. Here, maybe except for the Marines who is there, but we don't know Ukrainian soldiers – feed us. First, not rude, and secondly, very polite and any request fulfilled", – said Vasily.
We will remind, earlier the Ukrainians shot down enemy drones gunners under Mariupol and that stopped the shelling. To adjust the fire fighters was not possible.
Comments
comments