The United States will hold the final round of the debate, Clinton and trump. Watch online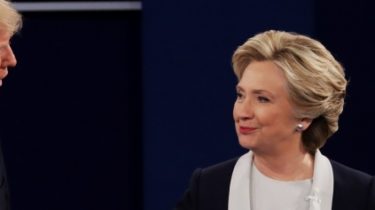 The United States will hold the final round of the debate, Clinton and trump. Watch online
© Getty Images
The United States presidential election will be held on 8 November.
The final debate of presidential candidates Hillary Clinton and Donald trump will be held on the night of October 20 in Las Vegas.
This writes the "Gordon".
The first TV debates of candidates for U.S. President were held September 27 at the Hofstra University in new York. According to CNN interactive poll, Clinton in the first round of the debate was supported by 62 percent of TV viewers trump's 27%.
Clinton won the second debate, but trump beat expectations and narrowed the gap with the support of the audience.
The United States presidential election will be held on 8 November. As of October 15, in accordance with the data of the poll Reuters/Ipsos, Clinton was willing to support 44% of respondents, trump – 37%.
See also: White house: as a ranged rating of trump and Clinton. Infographics
We will remind that then the support of the representative of the Democrats in the us presidential election – Hillary Clinton – has increased to 48 percent. Obviously, the opinion of voters was influenced by the scandal that arose over the words of Donald trump about the treatment of women.
When this rating is controversial representative of the Republicans is 41.9%.
The gap between the candidates has increased, and the greatest losses a rating of trump suffered among women aged 45 years or more.
Previously, the newspaper The Washington Post has published a recording of the conversation of the vulgar tramp with showman Billy Bush. During her TV host laughing with stories trump about his attempt to sleep with the TV presenter NBC. Subsequently, several women stated that sexual harassment on the part of trump.
Between trump and Clinton ended the second debate. What he was talking about violent opponents
Policy
10 Oct, 08:10
1 of 33

Hillary Clinton
© Reuters

1 of 33

Hillary Clinton
© Reuters

1 of 33

Donald trump and Hillary Clinton
© Reuters

1 of 33

Donald Trump
© Reuters

1 of 33

© Reuters

1 of 33

© Reuters

1 of 33

Donald trump with family
© Reuters

1 of 33

Donald trump with family
© Reuters

1 of 33

© Reuters

1 of 33

© Reuters

1 of 33

© Reuters

1 of 33

© Reuters

1 of 33

The 42nd President of the United States of America bill Clinton, husband of Hillary Clinton
© Reuters

1 of 33

© Reuters

1 of 33

© Reuters

1 of 33

© Reuters

1 of 33

© Reuters

1 of 33

© Reuters

1 of 33

© Reuters

1 of 33

© Reuters

1 of 33

Trump with his daughter Ivanka
© Reuters

1 of 33

© Reuters

1 of 33

© Reuters

1 of 33

© Reuters

1 of 33

Trump with his wife Melania
© Reuters

1 of 33

© Reuters

1 of 33

© Reuters

1 of 33

© Reuters

1 of 33

© Reuters

1 of 33

© Reuters

1 of 33

© Reuters

1 of 33

© Reuters

1 of 33

© Getty Images
Hillary Clinton
© Reuters

Hillary Clinton
© Reuters

Donald trump and Hillary Clinton
© Reuters

Donald Trump
© Reuters

© Reuters

© Reuters

Donald trump with family
© Reuters

Donald trump with family
© Reuters

© Reuters

© Reuters

© Reuters

© Reuters

The 42nd President of the United States of America bill Clinton, husband of Hillary Clinton
© Reuters

© Reuters

© Reuters

© Reuters

© Reuters

© Reuters

© Reuters

© Reuters

Trump with his daughter Ivanka
© Reuters

© Reuters

© Reuters

© Reuters

Trump with his wife Melania
© Reuters

© Reuters

© Reuters

© Reuters

© Reuters

© Reuters

© Reuters

© Reuters

© Getty Images
Comments
comments