In the "popular front" called the conditions under which the vote for the elections in Donbass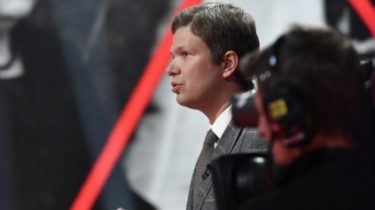 In the "popular front" called the conditions under which the vote for the elections in Donbass
© Dnia
The faction can not yet define their attitude to negotiations "channel four" in Berlin.
One of the largest factions in the Verkhovna Rada people's front will vote for amendments to the Constitution of Ukraine on the special status of Donbass and local elections in the region only after all items of the Minsk agreements.
About this on air of the talk show "Right to Vlad," said the MP from the "popular front" Leonid Yemets.
"We remain in his position consistently, and this position is very clear: no elections in the Donbass, no vote on the law on elections in the Donbass until the points of the Minsk agreements. That is, the withdrawal of Russian troops, stop the attacks," he said.
Read also: Poroshenko argues that we are not talking about the date of the elections in the Donbass
The Deputy noted that the faction "people's front" are not yet able to define their attitude towards the negotiations "channel four" in Berlin. Leonid Yemets said that now in connection with these arrangements raises many issues, and deputies want to meet with the President or his representative to get the answers.
"Road map: it will be gradual (the cessation of shelling, withdrawal, and then election) or it will be, said Mrs. Merkel, the two parallel processes? It's two big differences," – said the MP.
We will remind, on October 19 in Berlin, a meeting of leaders of member countries of the "Normandy format". At the end of four hours of talks, the parties decided to develop a road map for implementation of the Minsk agreements, to extend the OSCE mission in Donbass and identify four new areas for cultivation of the parties to the conflict in Eastern Ukraine.
Yemets: "the popular front" will not vote for the electoral law, until the Minsk agreements
Policy
20 Oct, 23:32
Add to favourites
Faction "popular front" discussed the results of talks in Berlin and are unable to answer the key question – whether the Minsk agreement before the elections in the Donbass. While the agreements would not perform, "people's front" for the law on elections would not vote.
Comments
comments