"Motorola" eliminated the Russian FSB – hacktivists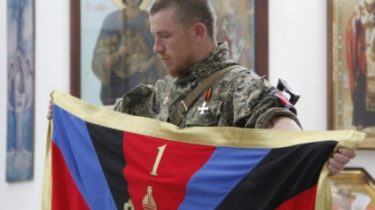 "Motorola" eliminated the Russian FSB – hacktivists
© Elena Pavlova Vkontakte
On the eve of the death of the gunman, his house was off the detail.
Militants "DNR" Arsen Pavlov, known as "Motorola", killed by Russian special services.
This is stated in the investigation, the Ukrainian hacktivist hacking groups "Cyberhunt", FalconsFlame, RUH8 and Trinity, which has at its disposal InformNapalm.
According to the data obtained from the gadgets "Motorola" and his wife Elena Pavlova (Kolenkin), on the eve of the explosion that killed the gunman, in the house where they lived was off the detail.
"I'm restless, "Dumb" says the night guard was shot," wrote "Motorola" wife.
In response, the gunman ordered her not to leave the house. "Older brothers don't believe," he added.

InformNapalm
As noted by the hacktivists "older brothers" among the militants called the Russian special services and FSB.
Moreover, in the investigation said that "Motorola" feared for his life, perhaps suspecting danger, he last week we spent the night in the office.
We will remind that one of leaders of fighters of "DNR" Arsene Pavlov, nicknamed "Motorola" was killed on the evening of 16 October. According to preliminary information, it blew up in the Elevator of the house where he lived. In the group "DNR" in the murder of Pavlov blamed "Ukrainian sabotage-reconnaissance group".
Motorola was one of the most cruel militants "DNR". In particular, he shot the prisoner Ukrainian military Igor Branovitskiy. Himself "Motorola" confessed to the murder of the 15 captured military personnel of the Armed forces of Ukraine. In Ukraine he was declared wanted.
Comments
comments