The black suit, and a witness in a dress with a plunging neckline. Mosiychuk married his assistant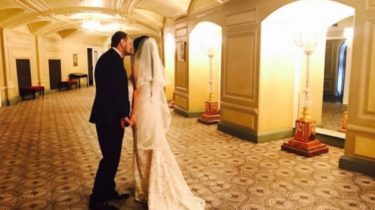 The black suit, and a witness in a dress with a plunging neckline. Mosiychuk married his assistant
Policy
October 21, 16:31
1 of 9

Wedding Mosiychuk
© facebook/Andrey Lozovoy

1 of 9

Wedding Mosiychuk
© facebook/Andrey Lozovoy

1 of 9

Witnesses Andrew Lozovoy, and Olga Vinogradova
© facebook/Andrey Lozovoy

1 of 9

Wife Mosiychuk
© facebook.com/vladlena19

1 of 9

Wife Mosiychuk
© facebook.com/vladlena19

1 of 9

Wife Mosiychuk
© okhitina To

1 of 9

Wife Mosiychuk
© okhitina To

1 of 9

Wife Mosiychuk
© okhitina To

1 of 9

Wife Mosiychuk
© okhitina To
Wedding Mosiychuk
© facebook/Andrey Lozovoy

Wedding Mosiychuk
© facebook/Andrey Lozovoy

Witnesses Andrew Lozovoy, and Olga Vinogradova
© facebook/Andrey Lozovoy

Wife Mosiychuk
© facebook.com/vladlena19

Wife Mosiychuk
© facebook.com/vladlena19

Wife Mosiychuk
© okhitina To

Wife Mosiychuk
© okhitina To

Wife Mosiychuk
© okhitina To

Wife Mosiychuk
© okhitina To
Policies in third time married.
Today, MP from the faction of the Radical party Igor Mosiychuk third time married.
Chosen policy was his former assistant Vladlena Karpenko. This is evidenced by open database of assistants to people's deputies of Ukraine "Popeci". But on the website of the Parliament the name of Karpenko now is not in the list of assistants to deputies.
See also: the Scandalous radical Mosiychuk dropped 100 kg weight and is marrying a brunette
Witness the MP were his other assistant Olga Vinogradova and colleague on fraction Andrey Lozovoy, and published in the social network the news of the marriage of radical. Vinogradov was in a bright red dress with a wide neckline.
Mosiychuk was dressed in a black suit and red tie, and the bride in a wedding dress with a long train.
Fiancee Mosiychuk on his page in social networks indicated that she was born in Odessa and studied at the Crimean law Institute of Kharkiv University of internal Affairs. She worked in the Suvorovsky district Department of internal Affairs and Suvorovsky regional Department of militia, and later moved to Kiev.
This is the third marriage Mosiychuk. He has two children – son Svyatoslav, and a daughter Christina.
Recall that earlier Igor Mosiychuk in "social life" said that preparing for the wedding.
"The wedding will be in Kiev will be, willow is my friend," said the MP. He also told me that he lost 103 pounds.
Igor Mosiychuk left on good terms with ex-wives and plans 2 children from the new marriage
Program
7 Oct, 22:59
The MP is preparing for her wedding that will take place in Kiev. After the conclusion Mosiychuk dropped 103 pounds, but he is still concerned about the disease. In all the court sessions he was supported by two ex-wives and future, which politician wants 2 children.
Add to favourites
Comments
comments