Under Debaltsevo Ukraine to protect "wild Witch" and "Xena-warrior"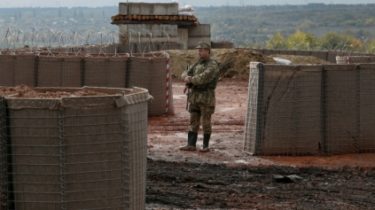 Under Debaltsevo Ukraine to protect "wild Witch" and "Xena-warrior"
© Reuters
Advocates say that have the strongest bunkers at the front.
The military, who hold the front line near debaltseve, calling themselves the wolves. The enemy is well studied their positions and shoots extremely accurately, says the story TSN.19:30.
Their fortifications, the soldiers began to equip for the summer and before the cold weather made a veritable fortress. The work was complicated because under the clay layer there was a thick layer of stones, which then further strengthened the dugouts. The construction was directed by the fighter with the Callsign "farrier". "Farms are able to build. One number we have is oak, then the sandbags, then oak and pine, then again sand bags" – he said.
As the Ukrainians have to fight with the enemy at a distance gun shot
TSN. 19:30
Yesterday, 19:58
Add to favourites
They are forced to bite into the ground under Debalcevo. Among the strewn fragments of the earth, buried in the asphalt mines and clothes still covered in fresh blood Ukrainian defenders hang the flags of the liberation struggle. And discover the secret that has to do wonders, while the magic and miracles are not prohibited by the Minsk agreements.
Even in shelters, the military does not give up the weapons. Even in sleep, the soldiers hold their rifles and grenade launchers at hand. The soldiers who had to defend the borders, saying that would give the enemy two things: a map to explore the area and do not shoot where to shoot is not necessary, and conscience. Both, according to the military, the Russian invaders noticeably missing.
Among the other defenders is different woman with a black cat and the hands and the call sign "wild Witch". She says she has their own secret means of dealing with the enemy. Along with it fight "Xena" – girl, call which requires to be a Princess, and a warrior at the same time. The fighter nicknamed "the Serpent" joking that while magic is not prohibited by the Minsk agreements, this "fabulous" crowd need to stick together, because you have someone to "talk" – on the opposite side of the front of the evil forces completely.
The TSN correspondent Natalia Nagornaya
Comments
comments