Zhebrivskyi showed the effects of shelling of the Russian mercenaries of houses Talakovki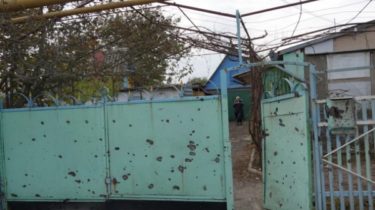 Zhebrivskyi showed the effects of shelling of the Russian mercenaries of houses Talakovki
ATO
Today, 16:51
1 of 5

© Facebook / Paul Zhebrivskyi

1 of 5

© Facebook / Paul Zhebrivskyi

1 of 5

© Facebook / Paul Zhebrivskyi

1 of 5

© Facebook / Paul Zhebrivskyi

1 of 5

© Facebook / Paul Zhebrivskyi
© Facebook / Paul Zhebrivskyi

© Facebook / Paul Zhebrivskyi

© Facebook / Paul Zhebrivskyi

© Facebook / Paul Zhebrivskyi

© Facebook / Paul Zhebrivskyi
Gunmen opened fire on houses.
In Talakovka, which fired on the eve of the "Russian combiners", almost five hundred homes were left without gas, and about a hundred de-energized.
Wrote about this on his page in Facebook the head of the Donetsk military-civil administration Pavlo zhebrivskyi.
"Explosions and shrapnel had damaged houses, pipeline and power line. Nearly 100 homes were without power and about 500 homes were left without gas. 11 houses took a flyer out the window," he said.
According to Zhebrivsky, it was a miracle that none of the residents were not injured, although the militants fired on Sunday morning, when it was still in the house.
As noted by the head of the ACV, the village flew three mines.
"As of now, restored power, replaced gas lines. Complete the gas purge of the pipeline and expect when all the people get back from work to control the flow of gas. Until the end of the day, all the inhabitants will be restored and gas supply", – added zhebrivskyi.
Recall that the militants hold in tension the direction of Mariupol, shelled Crimean and Avdeevka. Over the past day Ukrainian military has recorded 35 enemy attacks.
Comments
comments