Poroshenko explained why debaltseve has to be demilitarized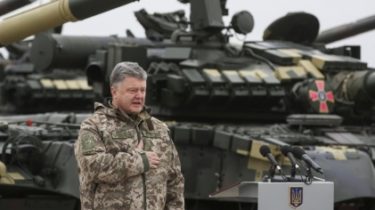 Poroshenko explained why debaltseve has to be demilitarized
© Reuters
The Ukrainian side insists that the occupied city should be one of the areas of breeding forces in the Donbas.
Captured by Russian troops and militants debaltseve has become one of the four areas where breeding of the conflicting parties in the Donbass.
The President of Ukraine Petro Poroshenko said in interview to Ukrainian TV channels.
"Fifth in the "road map", and it's all agreed, we are talking about implementation, not of the Minsk-2, Minsk-3, and all, without exception, the Minsk agreements and the Protocol of 5 September and Memorandum of 19 September and 12 package of measures Feb. This means that in effect the area that was clearly defined, and this gives us good reason to debaltseve was a demilitarized zone, which should be breeding," – said Poroshenko.
Read also: Putin has refused to return the occupied Debaltsevo Ukraine
Fighting for debaltseve took place from late July 2014 to February 2015, in which a large railway junction came under the control of insurgents. According to the materials of the report of Russian opposition leader Boris Nemtsov "Putin. War", a key role in the military successes of the terrorists was played by the Russian military invasion. At least 70 Russian soldiers, according to Nemtsov, killed in January and February of 2015 in these battles. The defense Ministry promised to pay compensation for death and injury, however, this promise was not fulfilled.
19 October Berlin hosted a meeting of leaders of member countries of the "Normandy format". At the end of four hours of talks, the parties decided to develop a road map for implementation of the Minsk agreements, to extend the OSCE mission in Donbass and identify four new areas for cultivation of the parties to the conflict in Eastern Ukraine.
Petro Poroshenko told about the arrangements "Norman Quartet"
Policy
Yesterday, 23:15
Add to favourites
President of Ukraine Petro Poroshenko gave interview to Ukrainian TV channels, including "1+1". The Ukrainian head of state told about the arrangements "channel four" called unacceptable alternative to the Minsk agreements and explained why debaltseve must be demilitarized.
Long "Norman dinner" in Berlin, agreed Merkel, Hollande, Poroshenko and Putin
TSN. Pdsmi day
21 Oct, 00:55
Add to favourites
Russia will not give up Debaltsevo under the control of Ukraine. This was stated by Putin's spokesman, Dmitry Peskov, half a day after the meeting of the Normandy Quartet in Berlin. Five hours of negotiations Poroshenko, Putin, Merkel and Hollande agreed on the preparation of a road map for implementation of the Minsk agreements. Experts call the result of the match is zero, because the Minsk agreements do not need additional documents.
Comments
comments