The lawyer explained why arrested in Russia Sushchenko difficult to obtain the status of political prisoner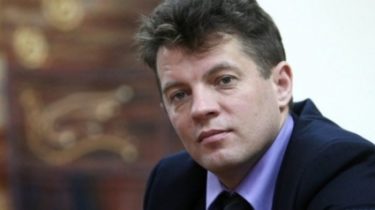 The lawyer explained why arrested in Russia Sushchenko difficult to obtain the status of political prisoner
Roman Sushchenko© UKRINFORM
Ukrainian journalist for almost a month is in jail in Moscow.
Arrested in Moscow, Ukrainian journalist Roman Sushchenko is unable to obtain the status of a political prisoner, because in the case of figures "state secret".
In an interview with "UKRINFORM" said the lawyer Sushchenko mark Feigin, who was also the lawyer concluded by Russia of the Ukrainian pilots and people's Deputy Hope Savchenko.
"The status of a prisoner is subject to a number of circumstances. In particular, the documents needed from the judiciary to do was clear what it was. In order to understand political partisanship, conflict of laws. And in Sushchenko authority declared the existence of "state secrets." And because of this there is the difficulty of obtaining documents," – said Feigin.
See also: Feigin believes that the issue of the release of Sushchenko can only be decided by Putin
The lawyer stressed that "in any case, Roman V. deserves the status of a political prisoner and, despite some obstacles, it will get".
Recall Sushchenko was arrested in Moscow on 30 September, where he arrived on a private trip. He is being held in the SIZO "Lefortovo". A Moscow court has arrested a journalist until November 30, and on October 7 he was charged with espionage. The FSB of Russia stated that Sushchenko is an employee of the Main intelligence Directorate of the defense Ministry of Ukraine. However, in the Gur MOU denied this statement, noting that it is absolutely untrue.
Sushchenko works in "UKRINFORM" in 2002, as a correspondent in France from 2010.
City court of Moscow should consider the complaint on the detention of Ukrainian journalist Roman Sushchenko 27 Oct.
Became known, when the City court of Moscow will consider the complaint on the detention of Ukrainian journalist
TSN. 16:45
18 Oct, 17:23
Add to favourites
The hearing will be held on October 27. This was reported by his lawyer mark Feigin. Today he'll try to see detainees in the SIZO "Lefortovo". On the eve of the FSB conducted with Sushchenko investigations. They, like courts, are held behind closed doors.
Comments
comments