Lutsenko explained, when a big case against Yanukovych comes to trial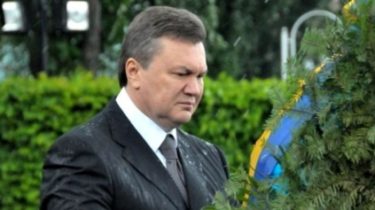 Lutsenko explained, when a big case against Yanukovych comes to trial
The case will include a few episodes.
The Prosecutor General's office of Ukraine shall be submitted before the end of the year a great case against Viktor Yanukovych of treason. This was stated by Prosecutor General Yury Lutsenko during a briefing.
"We have to submit before the end of this year, the great thing about treason-article 111 of the Criminal code, created by Yanukovych organized criminal groups, Art. 255. It will include the episodes: the usurpation of power, bringing to the unfitness for action of the armed forces of Ukraine, the collapse of the SBU, the destruction of Ukraine's information security, causing great damage to the economic security of Ukraine, the transition to the enemy, which led to the loss of territorial integrity and sovereignty of Ukraine", – said Lutsenko.
The attorney General added that most of these articles is the work of the military Prosecutor's office, which already reports a high degree of readiness of cases for transfer to the court.
See also: Lutsenko explained who to deal with Yanukovych and his entourage
We will remind, earlier Prosecutor General of Ukraine Yuriy Lutsenko said that the case against Viktor Yanukovych and his accomplices as part of an organized group can transmit to the court before the end of the year.
Separately Lutsenko commented on the statements of head of the Department of special investigations of the Prosecutor General Sergei Gorbatyuk not ready to pass indictments against Yanukovych, former interior Minister of Ukraine Vitaliy Zakharchenko, ex-head of SBU Alexander Yakimenko and others.
"I'm going to do, including organizational steps that will lead to this social set before me the task of legal method have been solved this year", – assured the head of the GPU.
The GPU has created a new unit to investigate cases of Yanukovych and his henchmen
TSN. Wounds
Today, 08:30
Add to favourites
It should bring to the court case against the President-the fugitive. Viktor Yanukovych accused of usurpation of power, the collapse of the economy, weakening the country's defense, and also in the misappropriation of state property. New management has allocated from the Department of special investigations, headed by Sergey Gorbatyuk.
Comments
comments