Danyluk called the options of return to the business of VAT debt by 16 billion hryvnia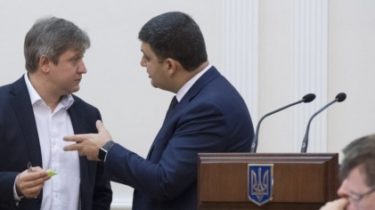 Danyluk called the options of return to the business of VAT debt by 16 billion hryvnia
Alexander Danilyuk and Vladimir Groisman© UNIAN
The most acceptable in the Ministry of Finance consider specefication assets of Yanukovych.
The state owes Ukrainian enterprises 16 billion UAH of compensation of the tax to the added cost. The government is now considering several options for the return of the money.
This was during a briefing today, October 26, in Kiev, said Finance Minister Alexander danyluk, reports UNIAN.
See also: the Government has approved further changes to the Tax code
The most appropriate way is due to the special confiscation of assets ex-the President Victor Yanukovych and "family". The least acceptable – the issue of bonds of internal state loan because it is directly related to the growth of public debt. Another option is directly refunding.
We will remind, at the beginning of September the state budget of Ukraine fell short of the planned 105 billion UAH from the special confiscation, privatization and 38 billion from the national Bank.
Comments
comments