Gerashchenko called a staggering number of women and children who died during the conflict in the Donbas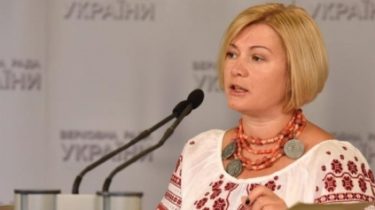 Gerashchenko called a staggering number of women and children who died during the conflict in the Donbas
© Irina Gerashchenko/Facebook
The UN security Council held a debate regarding women, peace and security.
For more than two years of conflict in the Donbass killed 495 women and 68 children, 152 children were injured.
The first Vice-speaker of the Verkhovna Rada Iryna Gerashchenko said during his speech at the debate of the UN security Council regarding women, peace and security, "Interfax-Ukraine".
"In the last two years in the Donbas killed 495 Ukrainian women. I want to remember the young woman Elena Lafazan, who died from the shelling of Mariupol, trying to close his body to his daughter. I want to remember young mother Klim Klimenko, who saved the boy, closing it by itself during the shelling of Kramatorsk in February 2015 With the beginning of the armed conflict has killed 68 children and 152 children were injured", – said Gerashchenko.
She noted that, according to recent data, in Ukraine there are 1 million 700 thousand internally displaced persons – of which about 900 thousand women and 236 children.
According to Irina Gerashchenko, as a result of Russian aggression in the Donbas killed 2130 Ukrainian military, including two women. 1937 children became orphans, 1213 women – widows, still 1975 women have lost their sons. 142 women wait for liberation from the Pro-Russian militants of their home.
"This is the symbol of the war in the Donbass – Russian men are fighting against the Ukrainian women and children, kill and maim them, take them prisoner," – said the first Vice-speaker of the Verkhovna Rada.
According to her, in the occupied territories recorded facts of human trafficking, sexual violence and exploitation, use of minors in hostilities. Gerashchenko noted that this is incompatible with standards of human rights and unacceptable in the modern world.
During the Russian aggression in the Donbas killed 495 women and 68 children
TSN. Pdsmi day
Yesterday, 23:34
Add to favourites
This was during the UN security Council, which is still going on, said Irina Gerashchenko. In the debate on women and children, the Deputy told about the Ukrainian victims of sexual violence. Invaders and Pro-Russian militants captured two hundred women, five are still captive. The Russians force minors to fight and throw Ukrainian teenagers in prison. UN asks Ukraine to pay attention to sexual violence in the East of Ukraine, and to influence the situation
Comments
comments