Savchenko crossed the Russian border only at the second attempt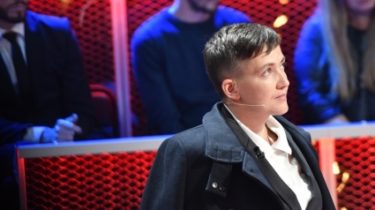 Savchenko crossed the Russian border only at the second attempt
© The right to Vlad
The MP was not allowed to Russia by car only by plane.
Ex-prisoner and people's Deputy Hope Savchenko asked many colleagues in the Parliament to join her and to go on trial in Moscow. About this TSN said the sister's Faith.
But to Hope no one told Faith that is not joined – someone-that already has a ban on entry to Russia, someone for reasons of personal security.
As previously said, Faith, Hope flew first in Minsk. There she was waiting for the assistant to the Russian lawyer Ilya Novikov, who in their own cars were supposed to drive Savchenko in Moscow. However, at the border the car was stopped and detained for two hours. After waiting for Hope came military high rank, who said that across the border Savchenko will not pass and if he wants to Moscow have to fly on the plane.
Then the MP flew a plane myself, flew from Minsk today, on October 26, early in the morning. To stay in Moscow is not going to – in the evening want to go home. Faith also noted that in the Russian capital near Savchenko Ukrainian Consul.
The main reason why Savchenko decided to fly and support the Ukrainian prisoners, was the statement Karpyuk that he is not going to go on stage. According to the MP, it is itself experienced, and therefore understands the complexity of the situation of prisoners.
Today, October 26, in the Supreme court of Russia will hear the appeal on a sentence for convicted Ukrainians Klychu Stanislav and Nikolay Karpyuk – this court pryletila Savchenko. Lawyers for the prisoners said that justice did not expect, and immediately after the Supreme Court's decision will go to the direct lobbying of the liberation of the Ukrainians.
Savchenko: If again captured, do not invest in me
Policy
21 Oct, 00:30
Add to favourites
The people's Deputy Hope Savchenko in the Studio "Right to rule" stated that, under their own responsibility and at your own risk goes to the occupied territories in the ATO zone. To get again captured the Deputy is not afraid.
Comments
comments