A secret hiding place. On the coast of Ireland found a pipe with cocaine for five million euros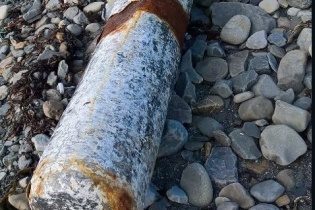 A secret hiding place. On the coast of Ireland found a pipe with cocaine for five million euros
© Revenue
Boon lay on the beach for a few months.
In Ireland on one of the beaches on the West of the country resting Michael Vaughan found a rusty pipe, which subsequently found cocaine. The length of the tank was 2.5 meters and 75 kilograms of narcotic substance.
This discovery on the coast found in August, according to CNN. At first Michael tried to open the tube on their own, but he failed. Later on like a torpedo the rusty pipe he reported to the police.
See also: Container Coca Cola brought in 370 pounds of cocaine
"A secret cache could be attached below the waterline of a cargo ship or another ship. It is difficult to say where did the pipe with the drug, and how she had an appointment," – commented on the incident in the customs Department.
It is noted that the pipe with cocaine lay on the beach for a few months. When eventually opened it, they found drugs in the amount of five million euros.
Earlier, two sexy girls from Canada accused of smuggling 95 kilograms of cocaine worth more than $ 30 million. Melina Roberge and Gabriela Lagas traveled on a cruise ship that sailed from Britain to Australia.
Comments
comments