Almost billionaire Poroshenko and Akhmetov unchanged: the TOP 10 richest Ukrainians. Infographics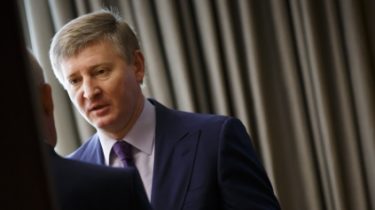 Almost billionaire Poroshenko and Akhmetov unchanged: the TOP 10 richest Ukrainians. Infographics
© Getty Images
For the first time in the TOP 10 was the businessman Konstantin Grigorishin.
Donetsk businessman Rinat Akhmetov again topped the list of the richest Ukrainians.
This is stated in the rating "TOP-100 richest Ukrainians", compiled by the magazine "Novoye Vremya" and the Dragon Capital investment company.
In the first place, like last year, turned out to be the oligarch Rinat Akhmetov. His fortune is estimated at $ 4.1 billion, -8% compared to last year. The publication writes that the most negative impact on the value of the assets impacted by the war in the East of Ukraine. It is noted that compared to 2015 the state of Akhmetov, who controls of DTEK and Metinvest decreased by 8%.
After it was oligarch Viktor Pinchuk ($ 1,3 billion, -19%). Closes the top three of the oligarch Igor Kolomoisky ($ 1.1 billion, -41%).
In fourth place – the President of Ukraine Petro Poroshenko ($ 949 million, -3%). Next come the oligarchs Gennadiy Bogolyubov (us$ 834 million, -55%), Alexander and Galina Gerega ($ 658 million, +8%), Firtash ( $ 652 million, -35%), Yuri Kosyuk ($ 628 million, +5%), Konstantin Grigorishin ($ 580 million) and Vadim Novinsky ($ 546 million, -23%).
It is reported that for the first time in the TOP 10 was former Russian businessman of Ukrainian assets Konstantin Grigorishin. Recall that in this year he received Ukrainian citizenship.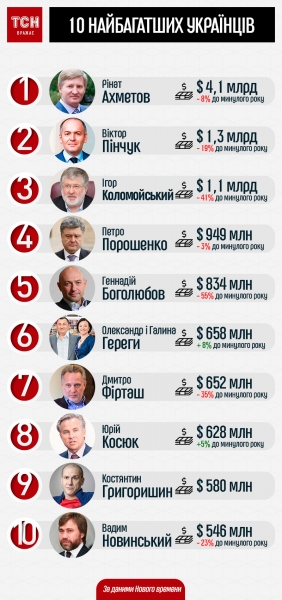 TSN.ua
Comments
comments