In the center of Kiev secretly sold the 5-story dormitory with tenants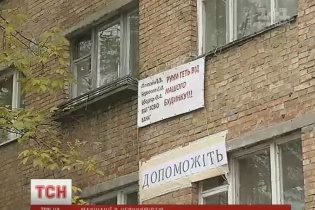 In the center of Kiev secretly sold the 5-story dormitory with tenants
The new owners are not allowed to run guests warmly
120 families hostel in the capital freeze. When the tenants began to ask why they have no heat, it was found that 5-storey building together with them sold to new owners. And he hired a guard and does not allow for the heat item the representatives of the "Kyivenergo". People are convinced that they so want to survive, says TSN.16.45.
In the room +11. Mother year-old Yegor son puts on another sweater. With the heating of the room can not cope old heater. Boy hurts all the time. People have been waiting for warmth since the beginning of the heating season. The night already minus figures, but here is still cold.
"When the children return from kindergarten, from school, turn on the heaters, wiring lights, sit and pray, will light or not," says one of the residents.
The inhabitants of the hostel direct contract with "Kyivenergo". However, when energy came to start heating, they blocked the entrance to unknown people.
See also: Kherson half of the city will have to wait for heating another week
A month ago, there appeared the guards. They do not provide any documents or certificates. And once on the doorstep of the hostel there is a "Kyivenergo" the guards do not pass them, so they don't vklyuchili heating. The police, which caused the hotel found out that they are representatives of the security company. They called the Director. That confirms the services ordered, the new owner of the hostel, but who's refuses to name.
So people learn that a 5-storey building of the state enterprise transferred to private hands, together with one hundred twenty families.
People are convinced, the new owner wants them to survive. The hostel is a 10-minute drive from downtown. The real estate here very attractive. People are prepared to challenge the contract of purchase and sale of their apartments, because in Ukraine for the last 6 years the moratorium on alienation of dormitories.
Comments
comments