NACP asks for more money on the website with e-declarations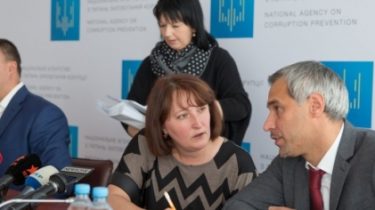 NACP asks for more money on the website with e-declarations
© UNIAN
The problem of poor performance of the system propose to solve at the expense of the state budget.
Officials that have not submitted electronic declarationsare at risk, because the deadline for filing financial statements is not going to take it. In this convincing in the National Agency on corruption prevention, said in the story TSN.19:30.
Despite the fact that the site with the financial statements unstable, to declare the property and income managed by many politicians and civil servants. Free you can already see Declaration of several Ministers and deputies and the speaker of Parliament Andriy Parubiy and the head of the government Volodymyr Groysman. "We expect the Declaration of the President, the General Prosecutor, the Minister of internal Affairs and the map of captain flint's will be fully established", – joked the people's Deputy Viktor Chumak.
Suffer, but fill in: members continue to register their property in electronic declarations
TSN. 19:30
October 27, 19:59
Add to favourites
Officials suffer, complain, but fill in the electronic Declaration. The website through which the officials must submit its financial report, freezes, buggy, but works through time. To postpone the Declaration due to technical failures will not. According to technical staff, the system hangs due to the fact that most decided to submit their declarations at the last moment.
Most of the problems with filling out electronic documents arises from the deputies. According to technical staff, the system hangs due to the fact that most decided to submit their declarations at the last moment. "Of course, we do not absolve ourselves of responsibility for system operation, but it is very, very much is," says Deputy Chairman of the NACP Ruslan Radetsky. Consequently, the main anti-corruption Natalia Korchak requests additional funds to purchase new server hardware. They say, then the officials will be easier to use the site. "We hope to appeal to the budget Committee regarding the allocation of us money. To ensure that we don't like those little children, kittens, wriggle out of the situation within limited resources," she explained.
Meanwhile in the NACP erupted salary scandal – alleged Vice-Chairman of the Agency themselves have subscribed to premium for overtime work. We are talking about tens of thousands of hryvnia for each employee. Leaders justified that only encouraged "workers who, under the pressure of heavy emotional and physical work, in fact, attrition". Deputy Korczak said that themselves yet imagine the money is not added, but who showed such generosity does not specify. "Reward I got for work. All matters not to me, I prize not being discharged," said Radetsky.
The TSN correspondent Olga Vasilevskaya
Comments
comments