Land, garden house, and nearly 2 million salary. Gontareva declared the income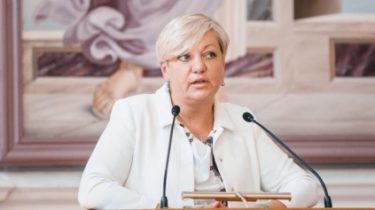 Land, garden house, and nearly 2 million salary. Gontareva declared the income
© National Bank of Ukraine
The Chairman of the national Bank holds most of the saving in dollars.
Last year the head of the National Bank of Ukraine Valeria Gontareva received 1,754 million hryvnias of a salary.
This is stated in the electronic Declaration, the heads of the NBU.
According to the document, Gontareva received 1,506 million hryvnias on interest from PJSC "State export-import Bank." Even 23,518 million hryvnias is specified as the income from alienation of securities and corporate rights from ICU Holdings Limited.
In the past year the salaries of her son Anton was 51.8 thousand. He also pointed out 749,3 thousand hryvnias of the income from the alienation of property and 90 thousand hryvnias of percent.
See also: Director of the NABU declared the land in the annexed Crimea and almost a million salary
Of real estate Gontareva owns the land in the Kiev region with an area of 900 square meters, the apartment in Kiev with an area of 106 square meters and a garden house with an area of 250 square meters.
Her husband owns a residential building in Kiev region with an area of 396 square meters and a land area of 2.05 million square meters. Son Anton has two apartments in Kiev area to 55.7 square meters and 41.3 square meters.
The Declaration also stated two cars: Porsche Panamera 2012 model year and Porsche Cayenne 2013 release. Husband Gontareva owns a car Toyota Land Cruiser Prado 2006 model year.
See also: No apartment, no car: Garden announced its Declaration
According to the Declaration, on account of Gontareva PJSC "State export-import Bank of Ukraine" is 1,831 million dollars, and 61.9 thousand hryvnias in "Oshchadbank".
Son Gontareva Anton holds 500 thousand UAH PJSC "State export-import Bank of Ukraine" and even 200 thousand hryvnias in "alpha Bank" PrivatBank and FUIB.
Recall that Gontareva told about economic forecasts and what are the positive of the "collapse" of banks. She assured that the macro-financial situation in Ukraine is stabilized, a significant fall of the hryvnia on the foreign exchange market is not expected inflation for the year will be 12%, and the next will be reduced to 8%.
Earlier, the NBU voiced autumn forecast for the hryvnia in the currency market.
Comments
comments