OSCE observers came under fire in the Donbass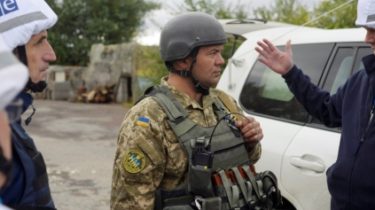 OSCE observers came under fire in the Donbass
© Reuters
None of the members of the Mission were not injured.
In the Donbass convoy of three cars of the Special monitoring of the OSCE mission came under fire.
This is stated in the operative report of SMM OSCE on 28 October.
"At approximately 17:00, when a convoy of three cars, the SMM approached the zero checkpoint of the Ukrainian Armed forces, then to enter outside the government's control areas, the mission of the observers who rode in the last car of the column, approximately 100 meters from the checkpoint felt and heard a thud. They thought struck the bus ", – stated in the message.
Read also: Putin for the first time explained why he supported Poroshenko and said about the meaning of the arms of the OSCE mission
The report also added that the observers returned to their base in Donetsk controlled by terrorists, examined the car and found a bullet hole caliber 7.62 mm, which fell in the engine block. According to SMM estimates, the bullet was fired from a northerly direction from a position located below the vehicle level of SMM that during the shot was on the hill.
The OSCE noted that none of the members of the Mission were not injured.
We will remind that earlier observers of the special monitoring mission of the OSCE came under fire in the area of the observation point of the Golden region. In total, according to observers, was made 60 explosions from guns (82mm and 120mm caliber), and sporadic gunfire from automatic grenade launcher (AGS-17 30 mm) and heavy machine guns within a half hour.
Comments
comments