Parasyuk declared hours donated by St. Nicholas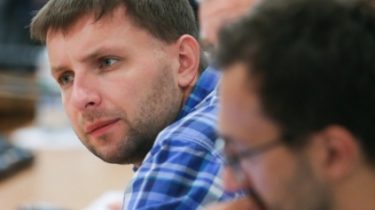 Parasyuk declared hours donated by St. Nicholas
© UNIAN
During the year the MP has received 75.5 thousand.
The people's Deputy Vladimir Parasyuk declared the watch, which he gave to St. Nicholas.
In the Declaration the people's Deputy stated that the watch Samsung Gear s2, the value of which was $ 7999 UAH he received as a gift 19 December 2015.
"Watch. Gift. PS. Brought Saint Nicholas. But I can not say exactly, because I was asleep," said Parasyuk in the description of the property.
Also on 9 July 2015 Parasyuk received a gift phone Apple iPhone 6s. In addition, he declared the Apple iPad Air 2.
According to the Declaration, Parasyuk does not own real estate. Place of registration – Papirnia village, Zhovkva district, Lviv region.
See also: Dekanoidze announced the opening of a criminal case because of a fight parasiuk and Vilkul
His mother Oksana Parasyuk owns a house with an area of 95.3 per square meter in papirnia village and two plots of 3000 and 3500 square meters in the same village. Grandma Mary parasiuk Kalitovska owns a house with an area of 66 square meters in the village Papirnia, and land area of 2500 square meter and 4685 per square meter in the same village.
According to the Declaration, Parasyuk is Skoda SuperB 2011 release, which is owned by a third party.
2015 Parasyuk was 75 586 hryvnias of a salary at the main place of work, 165 140 hryvnias of compensation for rent of housing. In addition, he received 80 559 UAH, connected with execution of Deputy powers.
Mati parasiuk received 990 000 thousand hryvnias of income from entrepreneurial activities. Father – 65 000 UAH of income from the alienation of property.
The accounts in "PrivatBank" Parasyuk keeps 5044 1293 dollars and hryvnia. Another 6 thousand dollars he keeps in cash.
Recall that Gontareva declared land, garden house, and nearly 2 million salary. A significant portion of revenue head of the national Bank keeps in dollars.
Comments
comments