Together martoutsy: Lutsenko told his wife and son to make a Declaration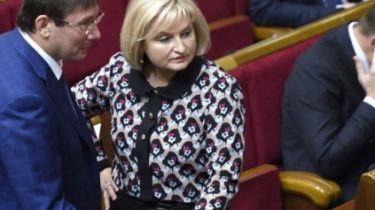 Together martoutsy: Lutsenko told his wife and son to make a Declaration
The attorney General admitted that he personally is going to make the Declaration.
In the family of Prosecutor General Yury Lutsenko welfare until the election of people's Deputy provided his wife Irina, and now the eldest son.
The head of the GPU said, answering the question of whether he filled out his Declaration, says "112 Ukraine".
"They both martoutsy with the Declaration… Irina Stepanovna gaining the fifth day return. I have not seen her have a lot of time at home," – he stressed.
According to Lutsenko, he will make the electronic Declaration about hundreds of antique books and an expensive wardrobe.
"My goal in the Declaration was very simple: to count the number of old books, rare editions, which together reach a stipulated amount that you need to declare it. Someone is painting, someone watch. I have books of the late XIX-early XX century. I have about a hundred of them. It purchased and donated. I show them as a collection of old books," added the Prosecutor General.
In books Lutsenko is going to declare "a huge bookcase of 27 sections, which also is the appropriate amount".
We will remind, earlier people's Deputy from BPP Sergey Leshchenko said on the ownership Lutsenko real estate in Kiev. According to him, the attorney General issued a house on the accountant of his wife. After numerous requests from the media and social organizations concerning inspection for compliance with anti-corruption laws during the acquisition and use of immovable property, which is attributed to the environment Prosecutor General Yury Lutsenko, the NEB decided to check the information about "a secret property" Lutsenko.
Comments
comments