Viktor Yushchenko surprised with gifts on the anniversary of his wife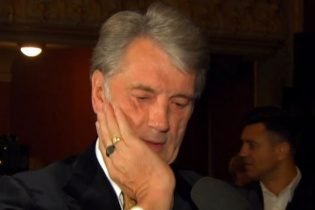 Viktor Yushchenko surprised with gifts on the anniversary of his wife
The former President of Ukraine gave his beloved candlesticks.
Third President of Ukraine Viktor Yushchenko, who with the vacuum cleaner began to save antique carpets from "the moth of the cattle", was surprised by the gift to his wife Catherine on the anniversary, says "social life".
According to Viktor Yushchenko, on the 55th birthday of his beloved, he presented it with candlesticks
"I gave her what I think, was to the heart. This candle holders are so beautiful. Wanted some thing that was constantly on her Desk. Flower vase and two candlesticks. I got to ten. Well. Well done. Well I did", – said Victor Yushchenko.
Also, the ex-President said what he wanted to do his youngest daughter and did not whether it led the famous father of the boys.
"For Kristinka has not yet come to the time to keep this issue. It is in the works. She chooses where he wants to learn. Every month change the profession. You want to be a photographer, she wants underwater shooting some lead. It wants to be the chief editor of Discovery magazine", – said Yushchenko.
But as the eldest daughter there, admitted Yushchenko, already it is necessary "to take a broom to the boys to drive".
"The main prevention is through my wife goes," he added.
Also the former President said his daughter, who in 2017 will graduate from high school, selects from seven universities to be. According to Yushchenko, foreign of them not all.
Victor Yushchenko has told about plans for the future of the youngest daughter-a graduate
Program
Yesterday, 22:23
Add to favourites
The former President told about the difficult career choice of the younger daughter, and his attitude about the boys middle daughter. Also the man said that got my wife for her 55th anniversary.
Comments
comments