Almost $ 200 thousand in cash, 7 bikes and a Grand piano. Klitschko announced its e-Declaration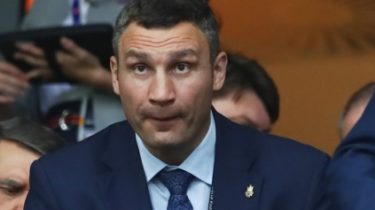 Almost $ 200 thousand in cash, 7 bikes and a Grand piano. Klitschko announced its e-Declaration
© Getty Images
The mayor of Kiev also declared the brand "Klitschko" in three languages.
The mayor of Kiev Vitaly Klitschko declared an apartment, Antiques, bicycles and motorcycle. He also has cash of nearly $ 200 thousand and 42 thousand Euro.
As indicated in the electronic Declaration of the mayor of Kiev, Klitschko owns an apartment in Kiev area of 251.8 sq. m, his wife leased a patch of land (2 500 square meters) and building (785,5 sq g) in Lyutizh near Kiev.
See also: Flats, houses, six plots of land and a pitchfork. Lyashko published his e-Declaration
Klitschko also declared an antique product (mantel clock, France, SECOND half of the NINETEENTH century), seven hours and a white Yamaha Grand piano. My wife has three pairs of watches and two jewelry, in particular Tiffany brand.
Kyiv mayor owns a motorcycle FineCustomPuncher 8.125-4 and trailer IronhorseWidebody, my wife has a Toyota Sequoia and Land Rover Discovery 3.0.
The mayor also declared seven bikes. Klitschko brands like Scott, Cannondale and Coratec. The cost of bicycles not specified in the Declaration.
Klitschko is also the ultimate beneficiary of charity organizations "Charitable Foundation "Future Kiev" and "Charitable Foundation "Klitschko Foundation".
See also: declare That Ukrainian top politicians. All e-Declaration in one place
Among other things, the mayor of Kiev has declared the brand "Klitschko" in Russian, English and German. He owns 50% of the rights, the second half is his brother Vladimir.
The mayor also received 759 UAH interest from the Bank, two gifts in kind at 609 513 UAH UAH, and about 2.6 million UAH from the income distribution.
Bank accounts Klitschko keeps 1013 EUR 18.75 per thousand and UAH 5534. Also, the mayor has 194,5 thous. and 42 thousand Euro cash.
See also: Dovgy has 95 pictures, $ 1.5 million in cash and a patent in his own name. E-the Declaration of the people's Deputy
From the Declaration it also follows that Klitschko lent to third parties in excess of 8.5 million euros and 740 thousand dollars. In addition, the mayor has obligations under the insurance 171,8 thousand UAH, his wife is 135 thousand UAH.
Also the Declaration States that Klitschko has made to the election Fund money and personal property for 20 million and 10.6 million UAH.
Ukrainians continue to learn about the incomes of Ukrainian officials
TSN. 19:30
Yesterday, 20:21
Add to favourites
The Chairman of the National Bank Valeria Gontareva, which has repeatedly called on Ukrainians to keep their money in UAH, she accumulates them in dollars – they have it on account of one of the state banks $ 2 million, and independent Deputy Vyacheslav Konstantinovsky holds almost $ 150 million in cash. More information in the story TSN.
Comments
comments