Lutsenko has his own apartment and holds cash of 150 thousand. E-Declaration of attorney General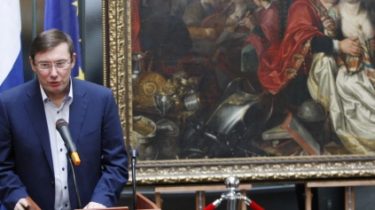 Lutsenko has his own apartment and holds cash of 150 thousand. E-Declaration of attorney General
© Getty Images
The head of the GPU is only 20% of the apartment, which is in joint ownership.
Prosecutor General Yury Lutsenko published his income statement on the website of the National Bureau of corruption prevention.
Thus, the attorney General declared an apartment in Rivne with an area of 108.6 sq. m., which owns jointly with his wife, son and brother. In connection with the electronic Declaration, Lutsenko has 20% of the apartment, and another 20% – wife Irina and son Alexander, while 40% belongs to the brother of the Prosecutor General Sergey Lutsenko.
See also: step away from dozens of Forbes. The ex-the battalion commander "Aydar" trillion hryvnia called a joke
The wife of the attorney General, the MP Irina Lutsenko has an apartment in Kiev with an area of 181 sq. m. and 92 sq. m. Also she is the owner of the home area 203,9 sq. m. and land area of 775 sq. m. in Dubno, Rivne region.
Lutsenko's son Alexander owns an office in Kiev with the area of 316,8 sq. m. in addition, Alexander Lutsenko took a lease of land plot with an area of 2475 square meters, building area of 859 sq. m. and a garage with an area of 80 sec.Parking the Kiev region, which has the right to use the whole family Lutsenko.
In the Declaration of the attorney General also provided a collection of books of the late 19th and early 20th century, Ulysse Nardin watches, wooden bookcases.
At the same time, Lutsenko's wife owns a collection of paintings by contemporary Ukrainian artists of the period 2006-2011, Dior bag, watches Breguet, jewelry and fur coats.
See also: Three apartments with relatives, jewelry and 30 thousand dollars in cash. E-Declaration Gerashchenko
Owned by the son of Prosecutor General Oleksandr Lutsenko – a collection of short – and dovgalevskogo bladed weapons countries of Asia, Africa and Europe.
Irina Lutsenko owns a Mercedes-Benz GL 500 2014 issue as well as Toyota Land Cruiser 2010 release, which is stolen.
Also Lutsenko's wife rents car Toyota Camry 2012 release in the "Business center LOTOS". The right to use this car also has the attorney General.
Alexander Lutsenko owns a BMW X5 2014 release. The son Lutsenko also owns the company "Business Centre "Logos" and LLC "Bel FAM".
Wages Yuriy Lutsenko over the past year in Parliament was 75 UAH 562. Also in the Parliament, he received compensation for conducting the parliamentary activities in the amount of 80 UAH 559, funds for trips abroad – 21 670 UAH and compensation for travel – 4 130 UAH.
See also: Salary, fees and savings in foreign currency. Leshchenko published the income
Irina Lutsenko got in the Verkhovna Rada 67 743 salaries 80 559 UAH of compensation for the conduct of parliamentary activities, 16 198 UAH of compensation for journey and 72 460 UAH on trips abroad.
She also received fees and other payments under civil contracts with LLC "Ukrainian newest telecommunications" – 20 000 UAH, the interest in AB Capital 310 458 UAH, and the income from providing property for rent – 368 000.
Ukrainians continue to learn about the incomes of Ukrainian officials
TSN. 19:30
Yesterday, 20:21
Add to favourites
The Chairman of the National Bank Valeria Gontareva, which has repeatedly called on Ukrainians to keep their money in UAH, she accumulates them in dollars – they have it on account of one of the state banks $ 2 million, and independent Deputy Vyacheslav Konstantinovsky holds almost $ 150 million in cash. More information in the story TSN.
The son of public Prosecutor Alexander received income from entrepreneurial activities in the amount of 1 303 375 UAH of insurance payments, JSC "IC "AHA" – 96 951 UAH, the income from the alienation of movable property – UAH 700 000, wages 4 657 UAH in HF А1978, 173 592 UAH in CJSC "TC "Megapolis-Ukraine", 14 335 UAH in BC "LOTOS", 522 UAH per 1, OOO "th EY capitals". He also received a loan from the company, "Bel FAM" in the amount of UAH 724 892. and 596 200 UAH. However, he made a loan to LLC "Ukrainian Newest telecommunications" in size 6 959 985 UAH.
On Bank accounts Yuriy Lutsenko has 6 472 $ 469 euros and 12 514 UAH. It also has 150 000 UAH cash.
See also: Without their own housing, but with money. The former leader of Azov Biletskiy issued the Declaration
Lutsenko's wife is on the accounts 1 800 000 UAH, UAH 14 022, 1 456 $ 364 euros. Iryna Lutsenko has 450 000, 50 000 and $ 280 000 of cash. She lent to LLC "Ukrainian Newest telecommunications" 753 904 UAH.
Lutsenko's son Alexander is on the accounts 128 899 UAH, 200 UAH 297, 1028 euros and 100 dollars. It also has 1 350 000 cash and 30 815 UAH cash in the Bank.
Suffer, but fill in: members continue to register their property in electronic declarations
TSN. 19:30
October 27, 19:59
Add to favourites
Officials suffer, complain, but fill in the electronic Declaration. The website through which the officials must submit its financial report, freezes, buggy, but works through time. To postpone the Declaration due to technical failures will not. According to technical staff, the system hangs due to the fact that most decided to submit their declarations at the last moment.
Comments
comments