Scandalous ex-the battalion commander "Aydar" Melnychuk has declared a trillion hryvnias cash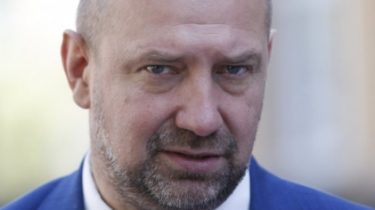 Scandalous ex-the battalion commander "Aydar" Melnychuk has declared a trillion hryvnias cash
Entering invalid data and even the error in the electronic Declaration is a criminal offence.
MP, defected from the Radical party, the group "will of the people" and former commander of the battalion "Aydar" Sergey Melnichuk declared a trillion hryvnias cash.
Thus, according electronic Declaration of Melnichuk, his entire income for the year 2015 amounted to a parliamentary salary of 73 thousand.
Also, the MP pointed out that owns an apartment in Vinnitsa area of 65,1 sq m and a land plot in Vinnytsia region area of 2 450 sq. m.
In addition, Melnychuk owns two old cars: Jeep Grand Cherokee 1994 model year and GAS 2411 1988 issue.
See also: Fleet and hours from St. Nicholas: the deputies continue to amaze e-declarations
Note that entering invalid data and even the error in the electronic Declaration is a criminal offence. However, Melnychuk is involved in several cases that draw on life, that does not prevent him from working in the Verkhovna Rada.
Ukrainians continue to learn about the incomes of Ukrainian officials
TSN. 19:30
Yesterday, 20:21
Add to favourites
The Chairman of the National Bank Valeria Gontareva, which has repeatedly called on Ukrainians to keep their money in UAH, she accumulates them in dollars – they have it on account of one of the state banks $ 2 million, and independent Deputy Vyacheslav Konstantinovsky holds almost $ 150 million in cash. More information in the story TSN.
Recall that the GPU has completed pre-trial investigation in criminal proceedings against the MP and former battalion commander "Aydar" Sergey Melnichuk and five others. it is Reported that Melnychuk and five other persons suspected of committing them as part of the armed gang robberies, kidnapping, misappropriation of the vehicle.
On 3 June the deputies during the session of the Verkhovna Rada voted for the decision to prosecute the people's Deputy Sergey Melnichuk. Main article which accused the former commander of "Aydar" Melnychuk is the creation of a criminal organization.
The Verkhovna Rada has deprived the immunity of MPs and Klyuyev Melnichuk
TSN. Pdsmi day
June 4, 2015, 00:02
Add to favourites
Sergey Klyuev and Sergey Melnichuk deputies deprived of immunity. In the case of the former battalion commander Aydar, the prosecution requested and still permit detention and arrest, but the MPs of his colleague in jail not given.
Comments
comments