Three apartments with relatives, jewelry and 30 thousand dollars in cash. E-Declaration Gerashchenko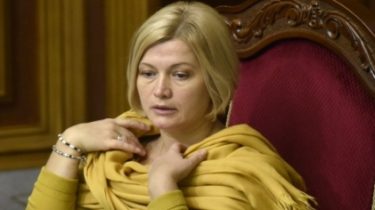 Three apartments with relatives, jewelry and 30 thousand dollars in cash. E-Declaration Gerashchenko
© UNIAN
Among other things — compensation for Deputy powers and compensation of the cost of travel for tens of thousands of hryvnia.
First Deputy Chairman of the Verkhovna Rada Iryna Gerashchenko does not own real estate, but earned for the year of 75 082 UAH.
In addition, Gerashchenko received 80 559 UAH of compensations for parliamentary powers, 13 808 UAH of compensation for journey and 17 820 UAH maternity, said in her Declaration.
See also: Church, luxury watches and 7 squares of living space. The scandalous declarations of Ukrainian officials
As for real estate, the husband is the official Anton Zatsepin owns an apartment in 143,7 sq. m, daughter Anna Zatsepina — 76,6 sq. m, and mother Olga Gerashchenko — 59,2 sq. m.
Mother Irina Gerashchenko also owns a land plot of 1000 sq. m cottage 240 sq. m.
She Gerashchenko has cash in USD 30 thousand, 3.5 thousand euros and 50 thousand hryvnia. Also, the official has about 28.7 thousands of dollars in your Bank account.
See also: Without their own housing, but with money. The former leader of Azov Biletskiy issued the Declaration
Besides, Gerashchenko owned jewelry, watch and artworks, the cost of which is not specified in the Declaration.
We will remind, today, on October 30, Ukrainian officials must complete the electronic submission of declarations on property ownership. Otherwise, they will impose a fine from 1 to 2,5 thousand non-taxable minimum incomes of citizens.
In malfunction of the electronic Declaration system of the accused provider
TSN. Wounds
28 Oct, 08:23
Add to favourites
On this night in the social network wrote the Chairman of the national Agency for prevention of corruption. Natalia Korchak says – according to its technicians, now the server load does not exceed 10%. To log into the system is still extremely difficult. Therefore, according to Korczak, the cause of problems – small amount of bandwidth of the Internet channel. Services provider for the Agency provides enterprise "Ukrainian special systems".
Comments
comments