"I wanted to attract attention." Melnychuk explained why declare trillion hryvnia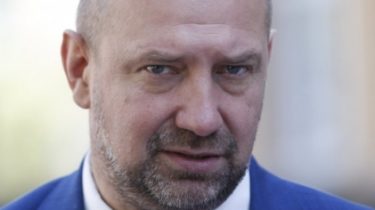 "I wanted to attract attention." Melnychuk explained why declare trillion hryvnia
The MP criticized the electronic Declaration, which "legalized corruption".
Scandalous ex-the battalion commander "Aydar" people's Deputy from the faction "People's Will" Sergei Melnychuk believes that the Declaration of income legalizes corruption in Ukraine.
He said this in comments to BBC Ukraine.
"I planned this amount showed. Wanted to draw the attention of the world community that the Declaration legalized the corruption of money. It's the same offshore come," – he stressed.
According to Melnychuk, electronic declarations provide an opportunity to legalize "stolen from the people for 25 years."
Separately, he also assured that he will correct the information soon, as before, for technical reasons, he failed.
"The system did not give me to do. I'll fix that to avoid criminal liability. There are seven days to change the data, I'll do it," he said, adding that will also make a document "10 million UAH of assistance", which he, according to Melnichuk, already spent on fighters ATO and their families.
Parallel worlds: Ukrainian MPs continue to surprise by reporting on their income
TSN. Week
Yesterday, 20:20
Add to favourites
Those Ukrainians chose those who protect us and serve the house hold millions of dollars, dozens of Swiss watches, diamonds and art collections and expensive wines. Their land, palaces, apartments often do not meet fairly modest salaries. These data are interested not only ordinary citizens but also the officers of NABOO.
We will remind, people's Deputy and former commander of the battalion "Aydar" Sergey Melnichuk declared a trillion hryvnias in cash. Thus, according electronic Declaration of Melnichuk, his entire income for the year 2015 amounted to a parliamentary salary of 73 thousand.
In turn, the former Deputy Chairman of the National Bank of Ukraine Vladyslav Rashkovan said that in Ukraine there is a trillion hryvnias of cash, and the whole stock of national currency funds in Ukraine, including cash, cashiers of banks and the hryvnia correspondent accounts at the NBU in September 2016 was $ 355 billion. The volume of hryvnia cash outside banks amounted to about 290 billion.
Note that entering invalid data and even the error in the electronic Declaration is a criminal offence. However, Melnychuk is involved in several cases that draw on life, that does not prevent him from working in the Verkhovna Rada.
Comments
comments