In the Kiev subway will increase the number of cops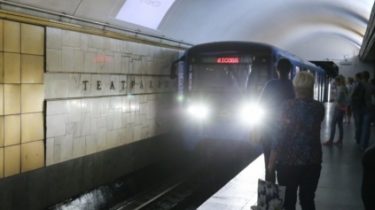 In the Kiev subway will increase the number of cops
© UNIAN
In the current conditions at each station should be at least two police officers.
The leadership of the "Kiev metro" will ask the police to increase patrolling at stations and in the lobbies of subway due to the fact that cases of aggressive behavior of passengers in terms of the workers underground.
This was stated by the head of KP "Kiev metro" Victor Bragin, transfers "UNIAN".
According to him, cases of arrest in the subway, passengers with firearms, melee weapons, explosive items.
"Given the situation, we will appeal to the leadership of the national police with a request to increase the number of police officers at the stations. And now we are working on the issue of acquisition of personal protective equipment for our officers of the home guard," said Braginsky.
He said that we are talking about soft body armor for employees.
According to him, paramilitary security service of the Metropolitan understaffed – working 56 from 77 provided by the staff.
According to Braginsky, in the current conditions at each station should be at least 2 police officers – one should be in the ticket hall, the other directly on the platform of the station.
Read also: In Kiev subway there was a fire on the train
We will remind, yesterday, on the 30th of October in Kiev at the metro station "Lybidskaya" police officer was injured, the incident occurred around 16:30.
Militiamen detained the man and took him to a special room where we heard the sounds of struggle and a gunshot. Subsequently, one of the officers ran from the room and reported by telephone that the police officer received a gunshot wound, prompting an ambulance and backup.
Comments
comments