NACP will change the Declaration of the property located in the occupied Crimea and Donbas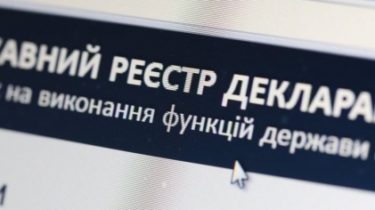 NACP will change the Declaration of the property located in the occupied Crimea and Donbas
© UNIAN
NAPC also settle the question of filing e-returns of military ATO.
The National Agency of Ukraine on prevention of corruption stress the necessity of amending the current legislation regarding the Declaration of assets, which is in Russian-occupied Crimea and Donbas.
This was stated by Deputy Chairman of the NACP Ruslan Radetsky, transfers "UNIAN".
"It is also a question that we will consider in the legislative procedure and to amend the law, because it is also a problem in respect of the property, which now remains in the occupied territories," said Radetsky.
He also said that only after making changes to the legislation will be to determine whether deferral of the need for a Declaration or such a deferral will not.
"Today this issue is being worked on and preparing amendments to the legislation," said Radetsky.
NACP also noted the need for legislative regulation of submission of electronic declarations for those soldiers from the zone ATO, which are obliged to submit declarations.
Read also: the European Union has responded to the deadline for declarations of Ukrainian officials
We will remind, NACP has asked the PGO to investigate failures at the time of filing. We are talking about technical problems that arose on 26 – 28 October in the Unified state register of declarations of persons authorized to perform state functions or local self-government administered by a state enterprise "Ukrainian special systems".
Parallel worlds: a life of military and civilians, who are separated by several hundred meters
TSN. 19:30
26 Oct, 19:54
Add to favourites
The city of Avdeevka flinches from attacks – even during the day heard gunfire and artillery. The people of the city the volunteers are trying to come up with a cure for war, and military positions soldiers to treat themselves. The civilian and the military are so different that they can be called parallel worlds.
Comments
comments