The court ordered the Executive office to arrest all the property of the Bakhmatyuk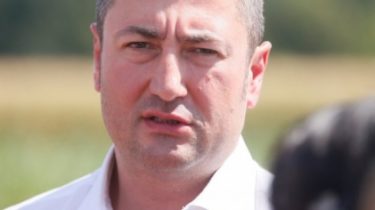 The court ordered the Executive office to arrest all the property of the Bakhmatyuk
© UNIAN
Arrested all the property and money of the entrepreneur.
The Ministry of justice on 28 October opened enforcement proceedings on the decision of Pechersky regional court about the seizure of movable and immovable property of the businessman Oleg Bakhmatyuk, and also funds placed on current accounts with PJSC "CB Financial Initiative" and PAO "VAB Bank".
It is reported by the NBU.
We are talking about the amount of UAH 1.2 billion credit agreement "VAB Bank", which Bakhmatyuk acted as financial guarantor.
October 28, was also arrested the house belongs to Bakhmatyuk and located in Kozyn Kyiv region with total area of 1 049 sqm.
The Pechersky court on September 25, 2015 upheld the claim of the national Bank and seized money and property Bakhmatyuk. However, then the state Executive office refused to open proceedings, Recalling that the judgement was not specified and the address and identification number of the debtor.
"The refusal of the Executive service was based on formal reasons and was illegal as the APU at that time already gave the explanation, from which it follows that these Executive service reasons for rejection may be installed by the contractor", – said Director of the NBU head Oleg Overseas.
Therefore, the national Bank repeatedly addressed in court and appealed the denial.
In October 2016, the court upheld the complaint of the NBU was obliged to open the enforcement proceedings and the seizure of the money and all the property of Oleg Bakhmatyuk.
Recall, may 12, 2016, the Pechersky district court of Kiev satisfied the statement of the national Bank and seized all the movable and immovable assets of the businessman Oleg Bakhmatyuk.
In June, the national Bank of Ukraine recognized insolvent commercial Bank "Financial initiative", which belongs to the agrarian oligarch and the owner of another bankrupt "VAB Bank" Oleg Bakhmatyuk.
Oleg bakhmatyuk indirectly owned 100% of shares through LLC "invest-Service" таQuickcom Limited.
Comments
comments