Semenchenko stated in the Declaration house in the occupied territory and loans of the wife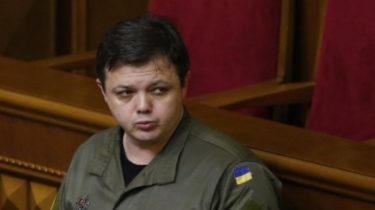 Semenchenko stated in the Declaration house in the occupied territory and loans of the wife
© UNIAN
According to the Declaration, the MP live on one salary and with modest savings.
MP from the "Self" and former battalion commander "Donbass" semen Semenchenko live on one salary, and his wife has property in the occupied territory of Donbass and earn credits in two banks.
This is stated in the electronic Declaration of the Deputy.
According to the document, Semenchenko rents a hotel room in Kiev, and his wife Natalia Moskovets rents an apartment in Kiev area of 32 square meters and owns a home in Amvrosievka Donetsk region is a city now occupied by fighters of "DNR".
The wife of the Deputy rides by proxy on the Nissan nv200, at the MP cars.
See also: declare That Ukrainian top politicians. All e-Declaration in one place
Semen Semenchenko wife own the LLC "Regional courier service". In addition, Natalia Moskovets is the beneficial owner "of the Charitable Foundation Seeds Semenchenko" and public organization "Association of wives and mothers of the fighters of ATO participants" and "Youth for reforms and development".
According to the Declaration Semenchenko, all his income in 2015 to the salary of the Deputy: he's got 72 272 UAH. Another 167 900 UAH compensation for the cost of rent, 80 559 UAH, he was dedicated to ensuring Deputy activity and 14 729 UAH – payment of travel expenses.
The wife of MP earned in the "Charity Fund Semenchenko" 42 427 UAH, and in the organization of the "Association of wives and mothers of the fighters of ATO participants" – 12 thousand UAH.
See also: Scandalous ex-the battalion commander "Aydar" Melnychuk has declared a trillion hryvnias cash
The ex-commander of the battalion "Donbass" holds cash 23 thousand dollars and 20 thousand UAH. and his wife is $ 2,500 and 17,500 euros.
Also in the Declaration it is specified that as at 31 December 2015 Natalia Moskovets was credit debt in two banks for a total amount of 131 306 UAH.
We will remind, today, on October 30, Ukrainian officials have to complete the electronic submission of declarations on property ownership. Otherwise, they will impose a fine from 1 to 2,5 thousand non-taxable minimum incomes of citizens.
Parallel worlds: Ukrainian MPs continue to surprise by reporting on their income
TSN. Week
Yesterday, 20:20
Add to favourites
Those Ukrainians chose those who protect us and serve the house hold millions of dollars, dozens of Swiss watches, diamonds and art collections and expensive wines. Their land, palaces, apartments often do not meet fairly modest salaries. These data are interested not only ordinary citizens but also the officers of NABOO.
Comments
comments