The Finance Minister said, where will the money to increase the minimal salary and who earns more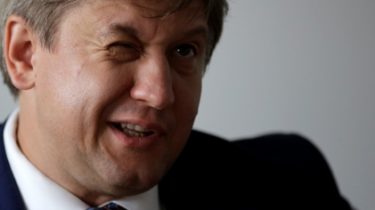 The Finance Minister said, where will the money to increase the minimal salary and who earns more
© Reuters
Danyluk sees only positive things for the economy.
The decision about raising the minimum wage will not lead to higher inflation, as it will happen at the expense of unshadowing of economy of Ukraine.
About it on air of TSN.Week said Finance Minister Alexander danyluk.
From which to take the money
The money will be taken not from the subsidies and not by the printing press. We all carefully calculated. Proposals to increase the minimum wage to the amount of 3200 UAH are balanced. Is the protection of the shadowing. There are now quite a large shadow economy in Ukraine. All economists estimate the level of at least 40%. On increasing the minimal salary does not need anything. Part of the economy — in the shadows. For people who or received part of their salary in an envelope, or even unofficially, officially increased the minimum wage. About three million employed in the private sector, will receive a minimum of 3200 UAH.
It's not taxes. Businesses don't pay taxes established by law. From now on, businesses will pay because the minimum level increases.
How will budget
If the minimum wage will be increased to RS 3200, the wage Fund will further increase to approximately 38 billion annually. This annual Fund will go to taxes. From the private sector, we get around 17 billion net income.
How to increase public sector wages
We have said that teachers ' salaries will increase by 33.5%, which was included in the draft state budget for 2017. For physicians — about 20%.
The decision to increase the minimum wage allows to increase the salaries of public sector employees to RS 3200. Those who already receives this amount or more will also receive an increase due to the unified tariff.
The increase is inflation
You have to understand where the money goes. They are now coming out of the shadows, where they are paid from the envelopes. These funds will simply be legalized. Therefore, more money can be generated. We have planned inflation of 8.1%. The decision to increase the minimal wage will not affect inflation in 2017.
The Finance Minister said, where will the money to increase minimum wage
TSN. Week
Yesterday, 20:06
Add to favourites
Alexander danyluk was interviewed in Studio by TSN.Week. The Finance Minister assured that Finance for the payment of the minimum wage will not take off the taxes of the citizens, and spoke about the impact of the rising dollar and the number of unemployed. Also Alexander danyluk said why keep thousands of dollars in cash.
Comments
comments