The property was purchased before the presidency: Poroshenko commented on his Declaration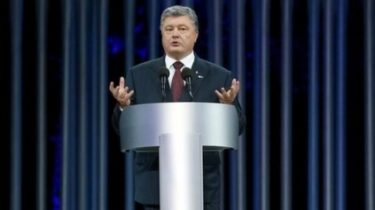 The property was purchased before the presidency: Poroshenko commented on his Declaration
© Reuters
The President noted that fundamentally keeps money in banks.
The President of Ukraine Petro Poroshenko, commenting on his published electronically, said that its property was purchased before the presidency.
About this he wrote on his page in Facebook.
"All the valuable movable and immovable property: housing, land, cars, paintings, jewelry was purchased (not leased), to the presidency. Moreover, as a rule, property was acquired at a time when I wasn't in public service," – said Poroshenko.
In the Declaration of the President are more than 100 companies in Ukraine, Russia, Poland, Spain, Cyprus, the British virgin Islands and the Netherlands. Poroshenko noted that they are all created at a time when he was engaged in business.
"In 2014 you have only created one new company, which I own – for sale Roshen", – he wrote.
The President noted that fundamentally keeps funds in banks, and "with every cent which taxes are paid to the budget of Ukraine", although it has some cash (800 thousand and 60 thousand dollars). Poroshenko believes that politicians should lead by example and trust in the banking system.
"As for me, the purpose of the electronic Declaration not only show who owns what, and to demonstrate the cost-to the declared income. Over the last ten years in my declarations declared incomes of over 820 million UAH (according to different ratio of hryvnia to the dollar throughout time)," said the President.
Poroshenko also stressed that the charity and the support of the army in the years 2014-2016, he and his enterprises contributed about 400 million hryvnia.
Comments
comments