Zakharchenko and Carpentry carried out mass purges among the "siloviki"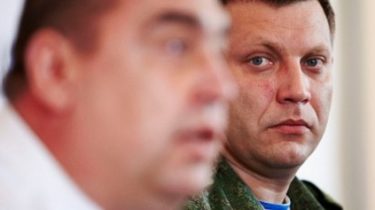 Zakharchenko and Carpentry carried out mass purges among the "siloviki"
© Getty Images
There is information that Zakharchenko uses the elimination Motorola for cleaning unwanted from the ranks of the "DNR police".
In "DNR" conducted large-scale cleansing "of state institutions of the republics".
Wrote about this on his page in Facebook the people's Deputy and the coordinator of group "Information resistance" Dmitry Tymchuk.
"MGB DND" holds large-scale detention "police of DNR", – he said.
According to Tymchuk, the cleaning began due to suspicions that security forces may be involved in the elimination of the commander of the "Sparta" Motorola.
At the same time among employees of "MIA DNR" rumor has it that detentions happen on the direct orders of Alexander Zakharchenko, who uses the elimination Motorola "to eliminate from the ranks of the "MIA" unwanted elements for example Igor Plotnitsky in the "LC" (the latter under the pretext of "dealing with the consequences of a coup attempt" conducts mass purges in "the government of LNR")".
Earlier, Igor Plotnitsky began a new phase of establishing a "personal dictatorship" in the "LC". The leader of the militants doesn't want to agree on solutions in respect of the heads of the separate "agencies" from "Russian curators".
Comments
comments