Deputies overstated in the declarations, the amount of cash to cover future borucki – expert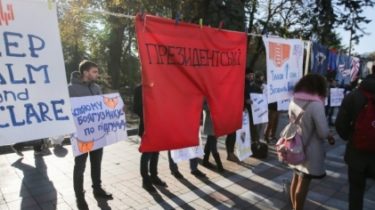 Deputies overstated in the declarations, the amount of cash to cover future borucki – expert
© UNIAN
In total, BP concentrated 12.3 billion hryvnia, of which 7.4 billion in cash.
Cash calculator for MP. The Verkhovna Rada has set an absolute record of "cache". Only the deputies keep in cash a significant portion of the budget of Ukraine, says TSN.19.30.
1480 meters high, nearly 17 thousand kg weight, or more than 17 hectares, if you put the money on the ground. So 500 hryvnia bills look cash only only state deputies of the Verkhovna Rada of Ukraine.
"In total, BP concentrated 12.3 billion hryvnia, of which 7.4 billion in cash", – says Andrey Gerus.
Economists say, "under the mattress" MPs hiding 100 of the budget of Ukraine in 2017, a budget of Lviv or 20% of the budget of Moldova. The money they could invest into the economy or take them to banks, thereby, reduce the cost of credit and, as a consequence, to revive small and medium businesses. Instead, the Declaration showedthat those who Ukraine is headed, don't believe it.
The absolute leader of distrust – the ex-the battalion commander "Aydar" people's Deputy from the faction "People's Will" Sergei Melnychuk. He declared one trillion hryvnias in cash. Subsequently, said he was just kidding. But the real Declaration was, though more modest, but no less impressive. People's deputies from BPP to take Dubnevichi and their family have more than 715 million UAH of cash. And the extra fractional Deputy Vyacheslav Konstantinovsky in the "cache" – $ 15 million. A considerable amount of cash has MP and member of the banking Committee of the Verkhovna Rada Ruslan Demchak. Several years ago, his Bank was declared insolvent and are now 133 million hryvnia, he keeps the cash.
See also: Heavyweights e-Declaration. How much cash in pounds store of Ukrainian politics
A significant amount of cash from the deputies and other officials is a bad sign, economists say.
"A large amount of cash indicates a large number of corruption-related sources of income. Where there is a lot of money – there's corruption, it is a General conclusion not only Ukrainian officials , but also to other officials from other countries," – said the economist.
At the same time, some, not all of the money in cash really exist. The amount could even inflate to legalize corruption schemes in the future.
"Some people think declared big cash, then to justify their purchase. At the moment, to check it really was that cash at the end of 15 years it is impossible. So I guess not all of this money in cash is, I think the numbers are inflated," says the expert.
That is why, say, anti-corruption bodies should be very careful to check all declarations and faster to draw conclusions.
See also: "Wanted to attract attention." Melnychuk explained why declare trillion hryvnia
"All the politicians who showed great status, and who came not out of business they have to go. They should go to prison with confiscation of all property, they can't explain. And most importantly – have to leave from office," the MP believes Sobolev.
Declarants themselves about his love for cash say reluctantly. After today's meeting of the conciliation Board, most MPs running away from reporters ' questions. Speaking on camera became one.
"I do not trust the banks. I want to go to any Bank to go, to believe and be confident that tomorrow, if necessary I can pull them off, not my money disappear," says Lyashko.
But these brave souls after a few minutes confused in the testimony. Because, admit, their cash lies in the places that they supposedly don't trust.
"Actually, the money stored in the Bank safe. Bank address I'll whisper in your ear", – adds the MP.
In the Cabinet that the amount of cash in 20 times inferior to that of the MPs for all says Prime Minister. His team just 380 million. But, the Prime Minister said it was last year. And now in the hands of the bureaucrats can be very different amounts.
See also: Lutsenko has threatened the responsibility of seven MPs who have not filed e-returns
"This means that as of 2015 it is the amount of cash I had, and part is already in the banks, some money spent and so on and so forth, we are talking about the fact that everyone now has to answer for his Declaration," – said Groisman.
But experts believe that only control of anti-corruption agencies is not enough. They say, officials need to introduce standards in Europe. How much is his car, watch, house. And as soon as he crosses the line – will have to deal with police officers. But MPs and officials after the delivery of the returns once again talking about old, paint their States should all Ukrainians. To those have proved that we live on one salary.
Comments
comments