Carpenter introduced a "fee" for entry in "LPR"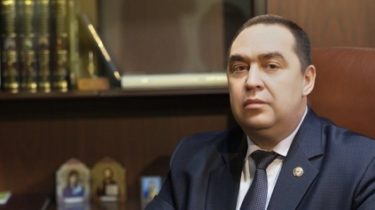 Carpenter introduced a "fee" for entry in "LPR"
© Luganskinform
"Customs duty" is from 2 to 10 euros.
The militants imposed a "customs fee" for entry into the territory of "LNR".
The "law" was signed by the leader of the terrorists Igor Carpentry.
"Customs duties are mandatory payments levied by the Executive organ of state power "Luhansk people's Republic", which conducts state policy and carries out functions in the sphere of customs business, for the Commission of acts related to customs clearance of goods and objects, their storage and maintenance, collection of a single collection with the vehicles which enter the customs territory of the "LNR", – is said in the "paper".
According to the "law" over the clearance of goods, as well as for entry into the territory of "LNR" introduced a unified collection vehicles. Thus, according to the utility cars with the goods you have to pay 2 euros for each vehicle, for buses with number of seats from 10 to 30 seats inclusive of 2 euros for each vehicle. Same price for railway wagons and containers on rail cars.
The buses over 30 seats, will have to pay 5 euros, and trucks with or without trailers and tractors with or without semitrailers weighing up to 20 tons.
At the same time, trucks with or without trailers and tractors with or without semi-trailers weighing over 20 tons up to 60 tons and 60 tons (for every 10 tons separately) are required to pay a 10 Euro "customs fee".
Separately noted that "transport fee" would not be charged in case of late check-in "LNR" aviation vehicles, rail cars without cargo, railway passenger cars, passenger cars (up to 10 seats).
Note that "document" came into force on 28 October 2016.
Earlier, Carpenter began a new stage of establishing a "personal dictatorship" in the "LC". The leader of the militants doesn't want to agree on solutions in respect of the heads of the separate "agencies" from "Russian curators".
Comments
comments