Novinsky said that he is not afraid of the lifting of parliamentary immunity and will not run away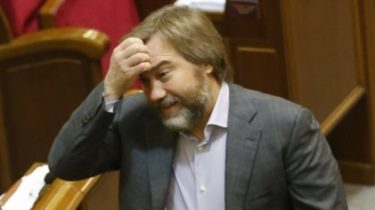 Novinsky said that he is not afraid of the lifting of parliamentary immunity and will not run away
© UNIAN
The Deputy reviewed posted to social networks document of the GPU.
MP from "Opposition bloc" Vadim Novinsky said that in lined with Prosecutor General Yury Lutsenko the idea about the involvement of the Deputy to responsibility a lot of mistakes. About Novinsky said on the sidelines of the Verkhovna Rada, the correspondent of TSN.
"The view in the VR yet, so will comment when it is read. What is written in Facebook – there are many errors, both grammatical and stylistic. This is probably a draft of a submission and when it will be signed and it will come to the VR, then I will comment. In fact, I can tell you that the case is politically motivated, completely fabricated, which is based only on the testimony of one person in respect of whom must also be a criminal case," said Novinsky.
The MP says that from investigation never disappeared, went to all interviews. From the country is not going to leave.
"I'm not afraid that it will be deprived of parliamentary immunity. I know that I live according to conscience and the law, and get justice. Nowhere to flee the country not going and not going. The only thing I had a trip planned for tomorrow to Athos – there is now Metropolitan Onufry, I will join him in the pilgrimage group. Back there, most likely on Monday. It was a planned trip," – said the Deputy.
November 3, public Prosecutor Yury Lutsenko published page submission to the Verkhovna Rada on bringing to responsibility of Vadim Novinsky. Before Lutsenko declared that the politician is suspected of attempt of removal of the Metropolitan of the UOC-MP Vladimir.
"We're really at the finish line in the case in which Yanukovych suspected of illegal pressure on the Ukrainian Orthodox Church with the purpose of removal from office of the late Metropolitan Vladimir. In this case is suspected as people's Deputy Vadim Novinsky" – said Lutsenko.
We will remind, in September of this year, was questioned by the Primate of the UOC-MP, Metropolitan Onufry. He was held as a witness in the case of the illegal imprisonment of the ex-Primate of the UOC (MP) Volodymyr and Metropolitan society.
Comments
comments