Promoter of the "Russian world" and subhuman. In the Parliament are outraged by the appearance of the controversial Bondarenko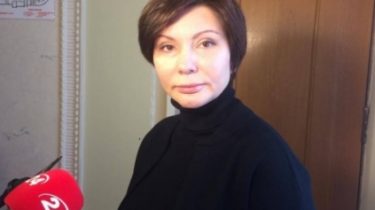 Promoter of the "Russian world" and subhuman. In the Parliament are outraged by the appearance of the controversial Bondarenko
© Ukrainian truth
According to one of deputies Bondarenko in the Rada led by the Deputy from "Opposition bloc" Oleksandr Vilkul.
The Deputy from "popular front" Yuri Birch outraged that ex-the Deputy from Party of regions Elena Bondarenko came to the Parliament.
He stated, speaking from the rostrum of the Verkhovna Rada, transfers "Ukrainian truth".
"Now in the Verkhovna Rada there was a bright promoter of the "Russian world" Olena Bondarenko. She was dragged here in the corridors of the Lord, but with that side sitting, Mr. Vilkul! This evil has plagued Ukraine for all Russian channels!", he said.
Birch believes that his visit Bondarenko desecrated the Parliament, so we need to "call an exterminator to do suninstall to call "priests" to sanctify."
"But I clearly understand that this man (the politician) has lost the sense of reality! Brought this subhuman, who was one of the authors of the war in the Donbass. This is the man who brought Russian channels, promote the murder of the Ukrainians!", – he stressed.
The Deputy asked the head of SBU Vasily Gritsak to consider his statement an official appeal and find out why Bondarenko is still at large.
See also: the Clown burned down a circus. The Network has strolli regionalka Bondarenko
We will remind that Bandarenka has repeatedly proclaimed provocative appeals against the Ukrainian government and military of the Armed Forces of Ukraine, and in the days of Bromide argued that the Ukrainian security forces acted "tough enough" shooting at peaceful activists.
Comments
comments