Scandalous Bondarenko came to the Parliament to protect promoters "LDNR"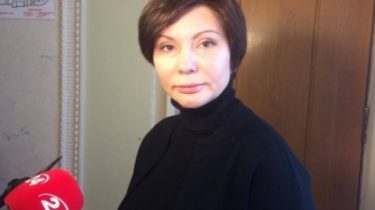 Scandalous Bondarenko came to the Parliament to protect promoters "LDNR"
© Ukrainian truth
Ex-Deputy wants to give the briefing.
Ex-Deputy from Party of regions Elena Bondarenko came to the Parliament to give a briefing to the defense of the minions of the new Russia Dmitry vasylets ' and Eugene Timonina.
She stated this to journalists in Parliament, transfers "Ukrainian truth".
"I'm here as a former MP, came to give a briefing against repression of journalists. Dmitry Vasilets and Vladimir Timonin. You know about these? It is a shame that you don't know them, because these people are in prison, they need support, I am ashamed that Ukrainian journalists are not on their side. They worked for themselves, led the program on "channel 17," said she.
To the question, why is she silent on detained Russian journalist "UKRINFORM" Roman Sushchenko, Bondarenko said it was not her competence.
Commenting on their appearances on Russian television, she said, "what is prohibited?"
See also: the Clown burned down a circus. The Network has strolli regionalka Bondarenko
We will remind, the Deputy from "popular front" Yuri Birch indignant that eks-the Deputy from Party of regions Elena Bondarenko came to Parliament. Birch believes that his visit Bondarenko desecrated the Board, so we need to "call an exterminator to do suninstall to call "priests" to sanctify."
Previously Kiev helpers of terrorists "DNR" and "LNR" Dmitry vasylets ' and Eugene Timonina arrested. The court chose a measure of restraint for suspects in custody.
Dmitry Vasilich and his friend Eugeny Timonin from Kiev helped the terrorists in the Donbas to establish the air channel of separatist "Novorossia TV". Two boys arrested SBU under the article "terrorist group", they face up to 15 years in prison.
Investigation TSN has identified a number of Kremlin propagandists in Kiev
TSN. Week
November 29, 2015, 20:48
Add to favourites
Literally under the wing of the information Ministry. The one that was created to combat the agitation industry of our Northern neighbours. Autumn evening on Khreschatyk Pro-Kremlin blogger Anatoly Shary dismantled TSN. Looking for propaganda in our news – in the center of Kiev.
Comments
comments