The public sector will increase the salary by half – Minister of social policy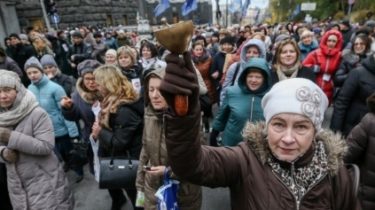 The public sector will increase the salary by half – Minister of social policy
Metropolitan teachers are picketing the government with a demand to cancel the increase in utility tariffs and higher salaries for teachers© UNIAN
Pay grades of teachers has increased by two positions.
From 1 January 2017 Ukraine plans to increase the minimum wage in two times – up to 3,2 thousand UAH. Respectively one and a half times increase and public sector wages.
This was reported by Minister of social policy Andrei Reva during the government Hour at the Verkhovna Rada, UNIAN reports.
"To increase the salaries of workers of budgetary sphere. The average growth will be 50%," said Reva.
The level of wages of state employees will depend on the skill and complexity of the work. So, the salary of the local therapist of the highest category assigned to the 13 category of the unified wage scale and will range from 4940 8475 UAH to UAH inclusive of allowances. Paramedic highest category of 10 tariff category will receive 3960 4230 UAH to UAH.
Read also: Parliament abolished the increase of salaries to deputies
Pay grades of teachers has increased by two positions.
"Thus, the growth rate of their remuneration is also to take into account the increase from 1 January 2017 this figure," – said Reva.
The salary of a teacher of the highest category, which refers now not to 12, and under 14 category, 1 January will be from 5266 6841 UAH to UAH. Teachers without a category – 3960 from UAH to UAH 4853.
"That is, the salary will be half to two times higher than those who receive the minimum salary," the Minister said.
Earlier, Prime Minister Vladimir Groisman assured that raising the minimum wage to 3200 hryvnia will not lead to a "leveling" of wages of Ukrainians.
Comments
comments