Ukraine receives from the ATO area coal mines, which are registered in Ukraine – Nasalik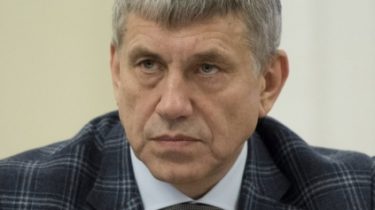 Ukraine receives from the ATO area coal mines, which are registered in Ukraine – Nasalik
Igor Nasalik© UNIAN
The Minister claims that they all pay taxes to the budget.
Companies that supply deficit of anthracite coal for thermal power plants from the zone of ATO in the Donetsk and Lugansk regions, registered as legal entities in accordance with the Ukrainian legislation and pay taxes to the Ukrainian budget.
Read also: Poroshenko assured that Ukraine has enough coal and gas for the winter
This was stated by Minister of energy and coal industry Igor Nasalik during the Hour of questions to the government in the Verkhovna Rada, UNIAN reports.
"Today, Ukraine receives from the ATO area coal mines, which are registered in Ukraine (as a legal entity – ed.) and pay taxes on the territory of Ukraine", – said Nasalik.
Earlier journalists of "Our pennies" accused "Tsentrenergo" procurement of coal from the occupied territories through the "criminal firm". PJSC published in the "Bulletin of public procurement" of the contracts for the supply of coal concluded in the first quarter of 2016, but there is no information on the date of its publication. Journalists noticed that the first among suppliers of state-owned companies there was "DTEK trading" Rinat Akhmetov. Also continued the cooperation with the "colliery group "Donbas", which last year ordered the coal to 528 million UAH. Co-owner of this company is Dmitry Burlaka from the occupied terrorists Donetsk.
Comments
comments