Explosives and thousands of ammunition. The police in Kiev summed up a month of voluntary surrender of weapons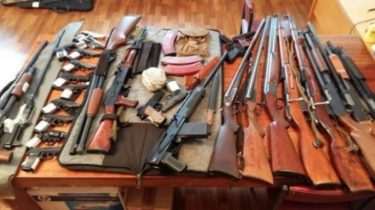 Explosives and thousands of ammunition. The police in Kiev summed up a month of voluntary surrender of weapons
Kiev
Today, 11:41
1 of 2

© GU NP from Kiev

1 of 2

© GU NP from Kiev
© GU NP from Kiev

© GU NP from Kiev
In the capital this month is the third time.
In October law enforcement agencies of Kiev asked about 2,5 thousand citizens, by the voluntary surrender of weapons. Police seized 1182 weapons.
"In the month of October, citizens surrendered 371 weapons, including 17 samples 38 and rifled army and hunting weapons, 176 – smoothbore, 107 – cold, 30 – homemade things. In addition, police seized ammunition 8095, including most of the guns for hunting samples: 5021 – rifles and 2308 – smoothbore", – said the press service of the national police of Kiev.
Read also: Ukraine is not ready. The head of the patrol police spoke out about the legalization of firearms
It is also noted that in October police seized 2.7 kg of explosives, 4 mines, 8 grenades and 36 fuses.
According to the report, since the beginning of the month of voluntary surrender of weapons on the territory of Kyiv is held for the third time.
The national police added that a timely appeal to the law enforcement and letting illegal weapons exempt citizens from criminal liability.
Recall from 1-31 October 2016 the National police of Ukraine was carried out a month of voluntary delivery of the weapon
If a citizen within a specified period voluntarily surrendered to the National police hunting firearms, cold steel and gas weapons, in the future, after the registration of the relevant documents it has the ability to register the weapons in private property and use it legally.
Comments
comments