Saakashvili has announced his retirement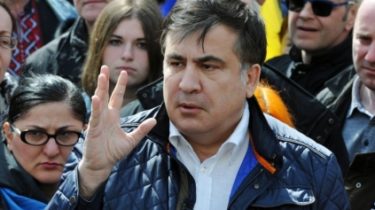 Saakashvili has announced his retirement
© UNIAN
The head of region has accused the AP in the promotion of corrupt officials to the chair of heads of regional administrations.
The head of the Odessa regional state administration, Mikheil Saakashvili declared about his resignation.
He noted that the President of Ukraine Petro Poroshenko does not adhere to their promises and the presidential Administration is promoting in place of heads of district administrations of the old corrupt.
"For six months does not nominate three of my four deputies. And now they relapsed and again began to sell place of heads of district administrations. The administration of the President through a bogus competition is those people whom we have carried on a transparent competition – the young, the promising, the idealistic, again brought the old corrupt. And it doesn't work", – said the head of RSA.
Saakashvili added that ukrincom no matter who will be their loot.
Read also: I will not leave the battlefield. Saakashvili commented on the information about the return to Georgia
"What's the difference to the Ukrainians, who will to them be viewed with indifference – Poroshenko or Yanukovich, what's the difference to the Ukrainians, who will Rob them, – Enakievo or Kononenko", he added.
Saakashvili added that the last straw for him were made public by the electronic Declaration, in which policy indicated a huge fortune.
"In this situation I decided to resign and start a new phase in the fight", – he stressed.
Saakashvili also promised to continue their fight.
"I will not give up, I don't get tired. And let them not hope and not expect to get rid of me. I am the soldier who goes, much as you can, and then as necessary", – he added.
We will remind, earlier the chief of police of Odessa region, Giorgi Lortkipanidze, resigned. He reported on the work done at the post, and also spoke about the difficult personnel situation in the regional office, where, after optimization remained at 40% less personnel.
Comments
comments