"Mountain crazy". As in the Network laugh at the mistakes Poklonskaya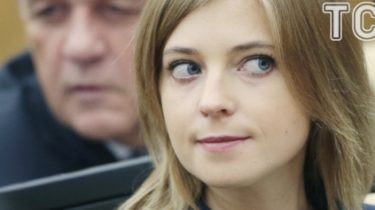 "Mountain crazy". As in the Network laugh at the mistakes Poklonskaya
© Getty Images
The former "Prosecutor" disgraced, confusing the author of the quote.
Users of social networks actively discussed the words of the former"Prosecutor" of the Crimea illegitimate and the Deputy of the state Duma Natalia Polonskaya, which is attributed to the commander Alexander Suvorov quote from the works of Alexander Griboyedov "Woe from wit".
During a radio Poklonskaya wanted to show off his mind and tried to quote the phrase "to serve would be happy fawn sick". She messed up a few words, so leading it up straight. Then newly minted Russian deputatka said that quote belongs to Suvorov.
See also: the Film did not look, but wanted to check. Poklonsky worried the new film about Nicholas II
And look at the Deputy of the state Duma, which will teach us how to be cultured and educated people pic.twitter.com/76nEUucEzL
— Alexey Navalny (@navalny) November 6, 2016
In fact, the words belong to the hero of Griboyedov.
Users of social networks began to laugh because of the ignorance Polonskaya and attributed to Suvorov and other quotes that did not belong to him.
– Natalia, what do you know about Griboyedov?
– There's the mushrooms al.
— Luchin Alexander (@luchinaleks) November 6, 2016
As the great Russian military leader Suvorov, would be happy to serve, I Borat.
— the dark Lord (@Moiseev__V) November 6, 2016
Hard in the doctrine – easily in the state Duma. (C) A. Suvorov.
— Oleg (@dolg132004) November 6, 2016
Alexander Suvorov:
Fool to teach — what the dead to heal.
All Peskov (@Sandy_mustache) November 6, 2016
"Not so scary fool, as his ambitions." Not Suvorov, but rather not say.
— Uncle Shu (@Shulz) November 7, 2016.
Evening in the hut, boys! (C) Suvorov
— The decadent West (@gniloywest) November 6, 2016
When Suvorov fought with Hitler in the Alps, his adjutant said, "would be happy to serve, but I Borat." This adjutant was albert Einstein
— Konstantin Kukuškin (@KKKukushkin) November 6, 2016
All. I admit it. Was wrong. Poklonskaya smart and educated. Was quoted Suvorov. Lenin=Hitler. Николайll – grandfather of Natalia who died in world war II.
— From Lemonade (@pglimonad) November 6, 2016
Think Poklonsky it was not a mistake, and trick. Pretending to be illiterate to classes place of Deputy speaker.
— Rose M. (@ANAKOYHER) November 6, 2016
"Suvorov had only one eye." – Poklonskaya.
"Kutuzov was not" – the journalist.
"Don't confuse me! Kutuzov was just one eye"
— Estelle (@put_in_vor) November 6, 2016
In turn, the Russian politicians and officials tried to whitewash the MP, explaining the gaffe Poklonskaya poor education received in Ukraine. In particular, said a confidant of Russian President Vladimir Putin, Sergei Markov, the son of the controversial leader of LDPR Vladimir Zhirinovsky Igor Lebedev.
Well, everyone already laughed at Poklonsky or still who?!)
Don't hurt the girl, Ukraine learn the history of prosecutors
— Igor Lebedev (@Russian1972) November 6, 2016
Comments
comments