"Take Nadia to the unit?" "I don't want!" Yarosh joked the fighter ATO regarding Savchenko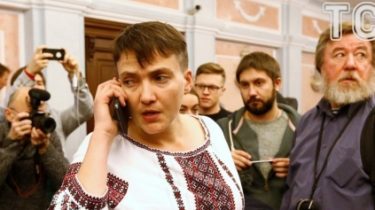 "Take Nadia to the unit?" "I don't want!" Yarosh joked the fighter ATO regarding Savchenko
Nadezhda Savchenko© Reuters
He also commented on her sensational statements.
MP Dmitry Yarosh said that it did not support his colleagues Hope Savchenko on the negotiations with the terrorists, however, does not consider her recruited by the Kremlin.
He said this in an interview with "Ukrainian truth".
See also: "he has no core". Savchenko called Poroshenko a weak President
"She has her own position in life, their life views on everything. I do not support her statements about the lethal weapons, on the negotiations with the terrorists. I told her that negotiations can be conducted only for the exchange of prisoners, but no political questions should not rise and no legitimization of "LNR" and "DNR" should not happen", – he said.
Also Yarosh said that Ukrainian soldiers of the volunteer army at the front would like to see Savchenko in the ranks of their units.
"She's already just me as a called. I decided to have some fun with our fighter, saying: "Black, will take Nadia to the unit?" And he said: "I do Not want do not want do not want!" We have a Black just does not like women in the sense that they fought," he said.
We will remind, on June 6-7 MPs Dmitry jarosz and Nadezhda Savchenko visited Ukrainian soldiers in the town of Avdiyivka and the village of Shirokino.
Comments
comments