The wife of Saakashvili refused the mandate of the Georgian Parliament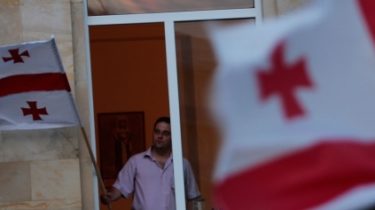 The wife of Saakashvili refused the mandate of the Georgian Parliament
© Getty Images
According to preliminary data, will take his place ex-Governor of Kakheti Giorgi Gviniashvili.
The wife of the third President of Georgia Michel Saakashvili , Sandra Roelofs refused the Deputy mandate.
It is reported by the CEC of Georgia.
Sandra Roelofs was the second number in the list of the former ruling party "United national movement", whose founder was her husband. A member of Parliament she became after UNM got 27 seats in the Georgian Parliament on the results of the elections held in two rounds – 8 and October 30.
However, CEC is not empowered to remove MPs from office, it should make Parliament. The Central electoral Commission shall submit to Parliament only the name of her successor.
According to preliminary data, the place Roelofs in Parliament is No. 28 on the party list "National movement", ex-Governor of Kakheti Giorgi Gviniashvili.
He Mikhel Saakashvili after the election results were announced on 8 October called on members of the UNM to refuse to participate in the second round of voting and boycotting the work of Parliament of the ninth convocation, questioning the legitimacy of the elections. However, the political Council of the party took the decision to participate in the second round and to work in the Parliament, despite the fact that the ruling party won a constitutional majority of 115 votes, and the faction will not be able to influence the law-making process.
See also: Groisman take under personal control the situation in the Odessa region after the resignation of Saakashvili
Recall, today, November 7, Saakashvili announced his resignation. He stressed that President of Ukraine Petro Poroshenko does not adhere to their promises and the presidential Administration is promoting in place of heads of district administrations of the old corrupt. Saakashvili is not going to leave the city through "their business".
President of Ukraine Petro Poroshenko signed the resignation of the head of the Odessa region Mikheil Saakashvili, if the corresponding address will come from the Cabinet.
The Cabinet of Ministers is ready to negotiate the resignation of the Chairman of the Odessa regional state administration of Mikheil Saakashvili. Documents with a letter of resignation had not been reported to the Cabinet. When they arrive, and if Mikheil Saakashvili will not change your mind, the government is prepared to give its consent, but the decision on dismissal from the post of Chairman of regional state administration is the prerogative of the President.
Comments
comments