Crimeans forced to pay off their debts to Ukrainian banks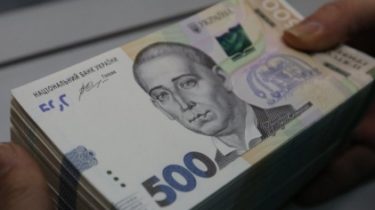 Crimeans forced to pay off their debts to Ukrainian banks
© UNIAN
At the time of the annexation of the Crimea loans to Ukrainian banks had about 350 thousand Crimean.
On the website of the Foundation for the protection of depositors of the Crimea, a list of organizations that Fund received the right to collect from the citizens of the Crimea debts on loans purchased from Ukrainian banks.
About it reports "Kommersant".
At the time of the annexation of the Crimea loans to Ukrainian banks had about 350 thousand of the Crimean people, according to the Independent Association of Ukrainian banks, as of 1 February 2014, Ukrainian banks extended to borrowers of the Crimea the credits for the sum of 16,6 billion UAH.
The sources claim that it was important to avoid social tension that could trigger the collection of debts, before the elections to the state Duma, which took place on September 18.
Earlier Crimean convinced that the debts of Ukrainian banks will disappear along with the annexation of Crimea.
In particular, the publication cited Putin's statement in April 2014 during a straight line. The President of the Russian Federation, answering a question of the inhabitant of the Crimea, how to be a loan on a car, taken in PrivatBank, said, "Well, ride safely. Don't want Mr Kolomoisky and Mr Finkelstein (head of the Crimean PrivatBank) to obtain money from you is their business."
Actively encouraged not to pay their debts to Ukrainian banks and the "head" of Crimea Sergey Aksenov.
See also: Cyprus offshore company requires Russia 82 million for the debts of the Crimea
Recall, on 18 January 2016, the Bank filed a notice of arbitration against the Russian Federation in accordance with the Arbitration rules of the United Nations on international trade law of 1976. This is the next step in addressing the legitimate claims of "savings Bank" of Russia. The Bank acts as an investor and as a legal entity of private law with the purpose of economic protection and the restoration of their lost in the Crimea investment.
The arbitration court of the Russian Federation annexed Sevastopol was awarded decided to collect more than 4.5 billion rubles (1.4 billion USD) from the Ukrainian "Oschadbank".
Comments
comments