Poroshenko hopes to support trump in the struggle with Russia and reforms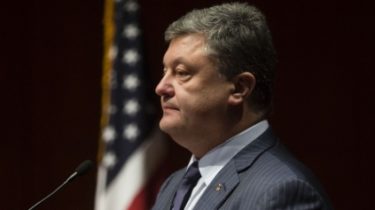 Poroshenko hopes to support trump in the struggle with Russia and reforms
© The website of the President of Ukraine
The President also hopes that in the near future will be resumed work of the Strategic partnership Commission.
The President of Ukraine Petro Poroshenko congratulated Donald trump with his victory in the presidential elections of the USAwhich took place on 8 November.
"I sincerely congratulate Donald trump being elected President of the United States and to the friendly American people with the democratic will. It is a symbol of true democracy, when no one until the last moment does not know the election results. And this is a sign of true democracy, which always professed and promoted our reliable and strategic American partners and friends," – said the head of state during a meeting with the US Ambassador in Ukraine, Marie Yovanovitch.
According to him, along with a victory at the highest position of the new US President assumes the responsibility for global leadership of the United States of America in the democratic world.
Read also: Putin to EU. As the world reacts to victory trump in the presidential election
Poroshenko noted that he appreciates the support of the Ukrainian political forces of the American state, which was demonstrated by the American people, support of the Congress and Senate, the President and the Administration.
"The President looks forward to continuing this support of the US in two important areas – in the struggle of Ukrainians against Russian aggression, freedom and independence, the restoration of the sovereignty and territorial integrity and in facilitating in implementing large-scale reforms in various spheres, ranging from anti-corruption, reforms in the energy sector and the rule of law, implementation of the amendments to the Constitution in terms of justice, public sector reform, defence and security and the like", – stated in the message.
See also: "God bless America". As Ukrainian politicians and experts reacted to the victory trump
Poroshenko also said that these elements of the Ukrainian-American bilateral cooperation, a sense of shoulder and strong support in strengthening the international solidarity must continue to be the fundamental aim in our strategic partnership. The President also hopes that in the near future will be resumed work of the Strategic partnership Commission.
Petro Poroshenko congratulated the re-election to the Senate of the United States members of the Ukrainian Caucus, which, according to the head of state, will help to continue effective cooperation and collaboration with the House of representatives and the Senate.
The President invited the newly elected President of Donald trump to visit Ukraine.
We will remind, the candidate of the Republican party, Donald trump won a victory on elections of the President of the United States. For his candidacy voted for 48.1% of the voters. The electors gave early for Republican 276 votes. Democrat Hillary Clinton scored 47.2 percent and 218 electoral votes. Trump won in Florida, Texas, Oklahoma, Louisiana, Mississippi, Alabama, Georgia, Kansas, Arkansas, North Carolina, Tennessee, South Carolina, West Virginia, Missouri, Kentucky, Nebraska, Wyoming, North Dakota, Indiana, Iowa, Ohio, Idaho, North Dakota, Alaska, Montana.

TSN.ua
Comments
comments